As a product company, our development team is working hard to develop our investment management system FA Platform even further. Traditionally a portfolio management system is bought with a one-time license fee, meaning that you buy a certain version of a certain product. If you wish to upgrade to a newer version, you need to pay a new license fee, which requires a (big) budget, of course. This is not the case with FA Platform, as we offer our platform with a Software-as-a-Service (SaaS) model, meaning that our customers are always getting the latest software version with the newest features – included in the monthly subscription.
We are proud to announce the next version of FA Platform called FA 2.5, introducing new major functionalities in Investment Analytics, Private Equity Management, and User Authentication. These major functionalities are introduced below, whereas more details and minor improvements are available for our customers in FA Help Desk.
---
Improved Investment Analytics
From FA 2.5 onwards the Analytics module provides you with even broader set of analytical key figures allowing you to comprehensively and thoroughly analyse your investments. In addition to TWR and Volatility, you can now analyse your investments for example with Alpha, Beta, IRR, Sharpe, or VaR, and track for example costs, profits, cash flows and market and purchase values of investments – all available with different variations for multiple time periods.
We have also made improvements in the graphics of FA Analytics to make them even more informative and responsive. The improved graphics allow you to dig into the performance of a specific security, a group of securities, a portfolio, or a group of portfolios on a selected time range, and compare these with each other and against their benchmarks. You can also review an allocation of a selected customer or portfolio on a certain date. These graphics can be flexibly utilised in reporting by saving them into your computer.
List of key figures available in Analytics from FA 2.5 onwards:
Alpha, Alpha Class90, Alpha High, Alpha Low, Appraisal Ratio, Average Market Value, Average Purchase Value, Average Return, Average Return BM, Average Share of Parent, Average Share of Total, Beta, Beta Class90, Beta High, Beta Low, Code, Committed Capital, Correlation, Costs, Distributions, DPI, Indexed Value Highest, Indexed Value Lowest, Information Ratio, IRR, M2, Market Value, Market Value Highest, Market Value Lowest, Market Value Start, Match, Name, Negative Net Cash Flow, Net Cash Flow, Other Costs, Other Profits, Paid-In-Capital, PIC, Positive Net Cash Flow, R2, Realized Profits, Remaining Commitment, RVPI, Share of Parent, Share of Total, Sharpe Ann, Sharpe BM, Specific Vol, Total Costs, Total Profits, Total Return, Total Return BM, Total Value, Tracking Error, Treynor, Treynor BM, Treynor Sqr, TVPI, TWR, TWR Ann, TWR BM, TWR BM Ann, Unrealized Profits, VaR, Vol Ann, Vol BM
---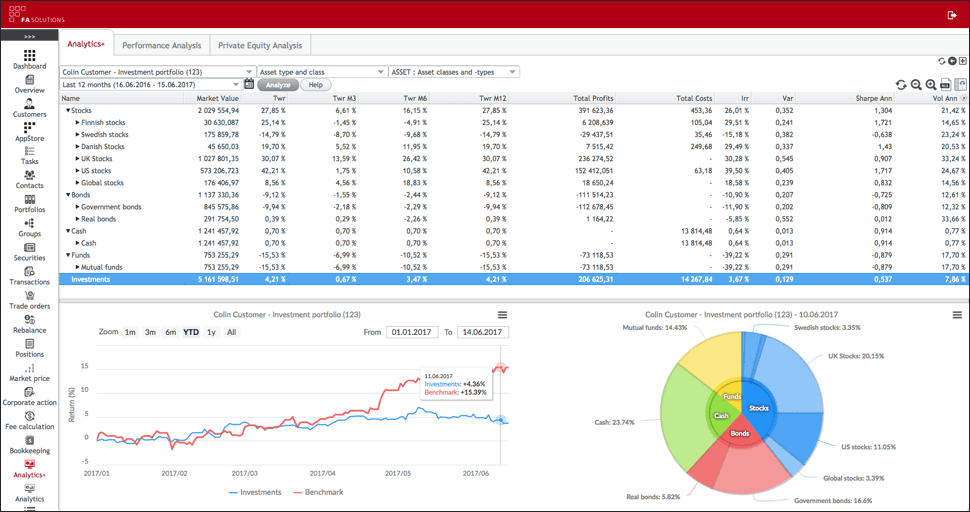 Managing Private Equity Investments
FA 2.5 provides extensive tools for managing Private Equity investments. It allows you to track commitments on a position level, see how much you have committed into each investment, and manage Private Equity transactions such as additional commitments and capital calls.
Additionally, you can easily analyse your Private Equity investments through a set of key analytical figures, such as remaining commitment, committed capital, paid in capital, distributions, IRR, DPI, RVPI and TVPI.
Two-Factor Authentication
From FA 2.5 onwards our customers can add an extra layer of security in the login process of their FA Platform by utilising a two-factor authentication process. With two-factor authentication, users are required to submit an additional verification code when logging in to FA – knowing merely the basic user credentials would not be enough. Two-factor authentication is supported through a 3rd party authenticator app installed to user's smartphone.