The word that would encapsulate the essence of the newest features added to FA 3.4 is control. Control, because the improved features add more depth to the current functionality, ultimately allowing the user to store the data they want, define how it's managed, and extract more relevant information from the system. Enter the features…
Extended Key figures to track your most essential indicators

Key figures, what are they for? Simply put, they are figures that you link to a security, for example, to build a time series of values. Such figures come in handy when you want to store and track values for a figure that is not directly available to be calculated in FA.
The Key figures feature introduced in the version 3.2 covered certain pre-defined key figures like YTM for securities, allowing you to override calculated values for bond and fund securities. This concept now extends to contacts and portfolios alike. Now, the types of figures are freely configurable in FA, so that you can decide exactly which figures to store for a contact, portfolio or security.
For example, you can configure a "CO2 Rating" figure for stocks and store a full history of CO2 ratings for your preferred stocks.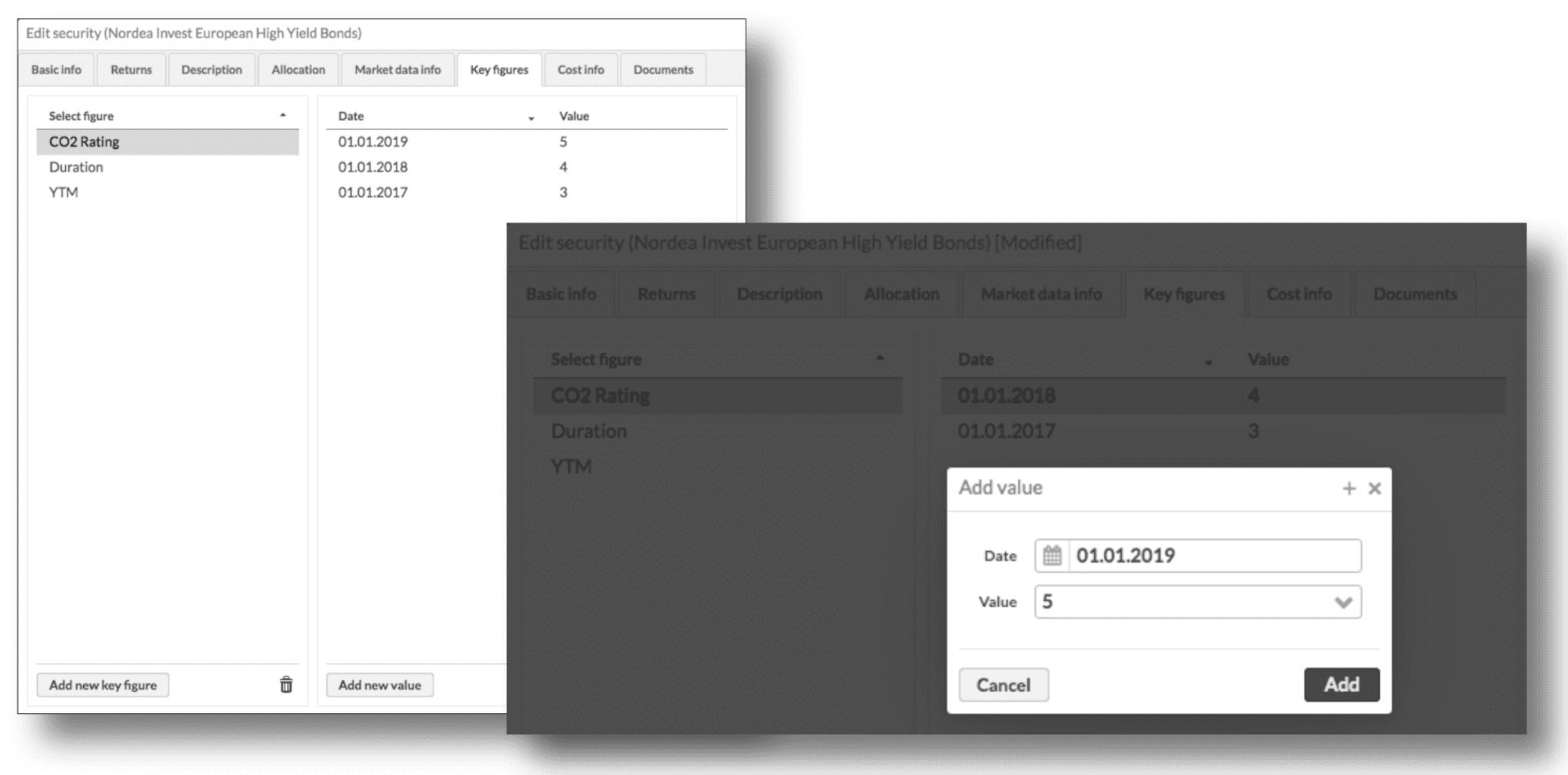 Values of a configured key figure in Security window
Tools to help you with the position valuation
Overriding valuation per security type
Set in the Preferences menu which valuation method, Always use FIFO or Always use average price, you want to use for a specific security type and override portfolio's valuation method. With this, you can for example evaluate Private Equities with average price in your FIFO portfolios, without needing to do additional work to get the valuation right.
Sell a specific purchase lot in FIFO

New Override FIFO field in Transaction window allows you to link opposite transactions together in order to sell a specific purchase lot. You can use this for holdings in mutual funds, and once the linkage is established, your specified lot linked to an original transaction will be sold instead of the lot that would be next in FIFO order.
Set valuation method for security type
More powerful queries

FA 3.4 vastly extends our clients possibilities to work with queries. Now that there are more parameters you can embed into your queries, you are able to fetch more relevant data from the system for a specific user.
For instance, with certain parameters such as contact, security or dates embedded into queries, users get more out of the Queries when they can choose the value for the embedded parameter (i.e. actual dates, for instance, for the dates parameter), but you may also build Dashboards that display data for your users. Along with the parameters, select users can add variables into queries that then dynamically fetch information related to the logged-in user, for example.

Benefit from queries in Queries and Dashboard
See full FA 3.4 release notes for FA Back and FA Front in HelpDesk. If you wish to hear more about FA features, just drop us an email at sales@fasolutions.com or leave your email below to hear back from us.