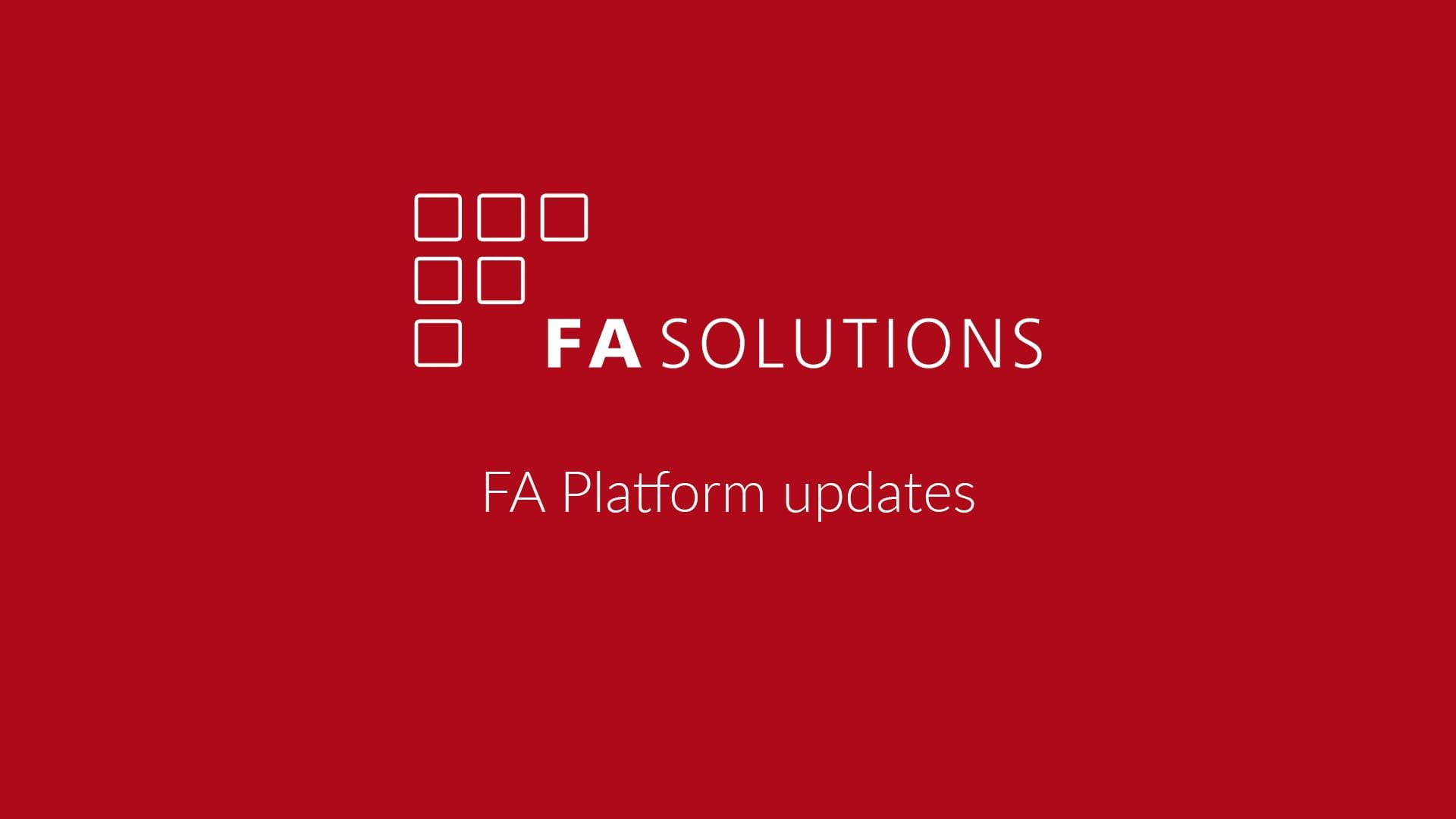 ---
2019 started with a bang, as the FA team pushed the new FA version 3.1 out just before the holidays. One of the highlights of the version is the possibility to record FX contracts in the system. Before, there was no easy way to do this. Support for FX products will make the management of derivatives more straight-forward while taking the first step towards comprehensive complex derivatives management.
The major changes in FA version 3.1 include:
Extended bond functionality and calculations

Improvements on existing report features
Contracts
At the moment contracts are supporting two FX contract types: FX Spots and FX Forwards. Recording contracts follows closely the same familiar logic that's in the works when saving a transaction in FA. This means you don't need to agonize over learning yet another new thing! Just enter the contract information in the new Contract window, and the system takes care of the rest. Saving a contract creates a contract position, a contract security and relevant cashflow transactions, all conveniently in one click.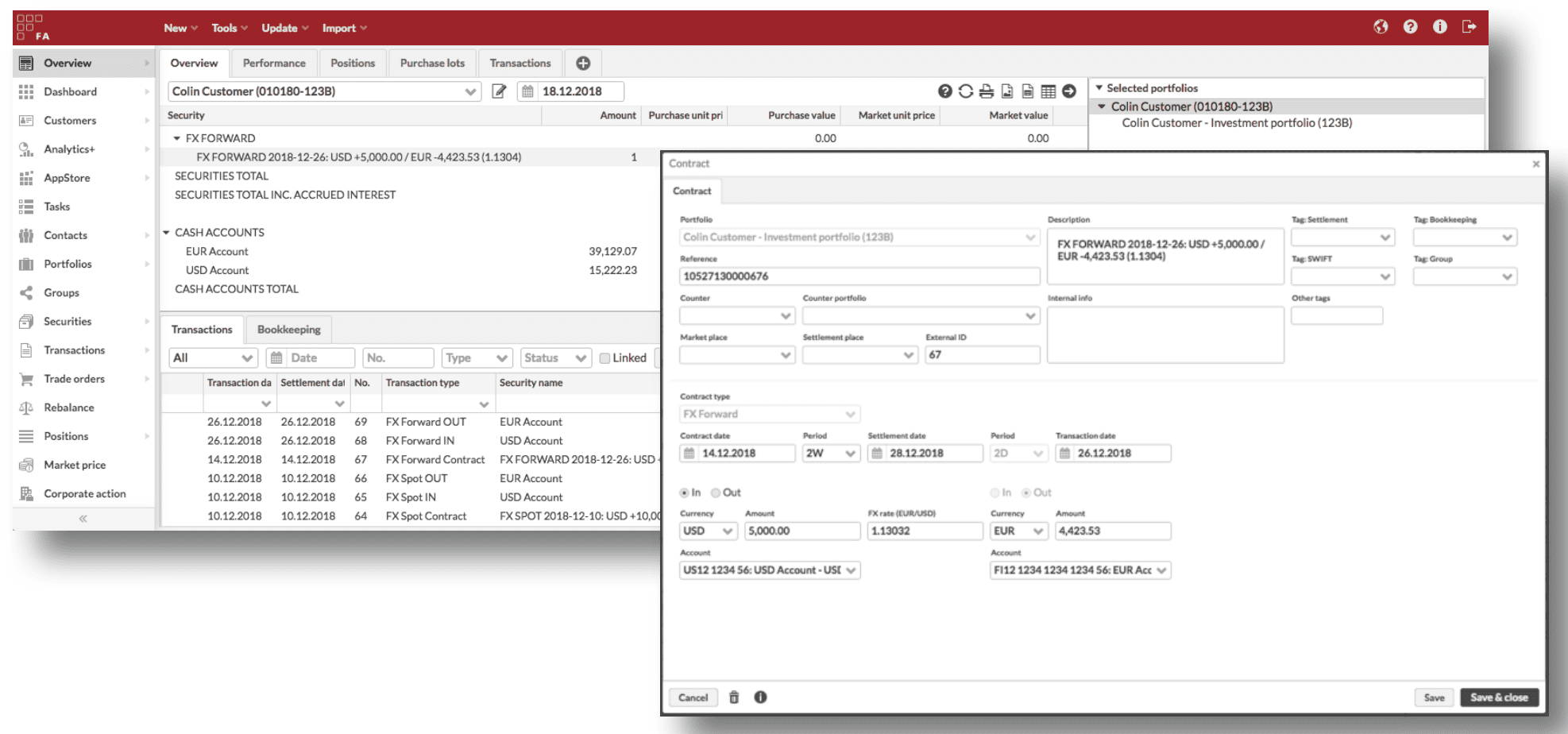 Updated FX contract management
In order to provide a solid base for managing FX contracts, this version adds extensive improvements on currency handling. From 3.1 onwards, FA distinguishes between a currency and a currency pair, instead of mixing these together as before. The new setup makes managing currencies easier, clearer and more intuitive. From now on, currencies (such as EUR or SEK) work merely as mediums of exchange, and in itself a currency doesn't have any value. Currency pairs (such as EUR/SEK) on the other hand do have a value, when one currency is valued against another – this value is the FX rate.
The new approach to currencies does not change anything from the user's perspective, it only makes managing currencies more flexible in the background.
Extended bond functionality and calculations
New bond-related fields in the Security window allow you to define additional specifications for coupon and accrued interest calculation. Settings like holiday calendar (calendar used to distinguish between business days and holidays), business day convention (how to adjust a date if it falls on a non-business day) and ex-coupon period (the number of days before the coupon payment date during which the bond is traded ex-coupon) allow you to manage bonds in a more accurate and convenient manner. If you don't need these fields, just leave them empty and the bond data is calculated as before.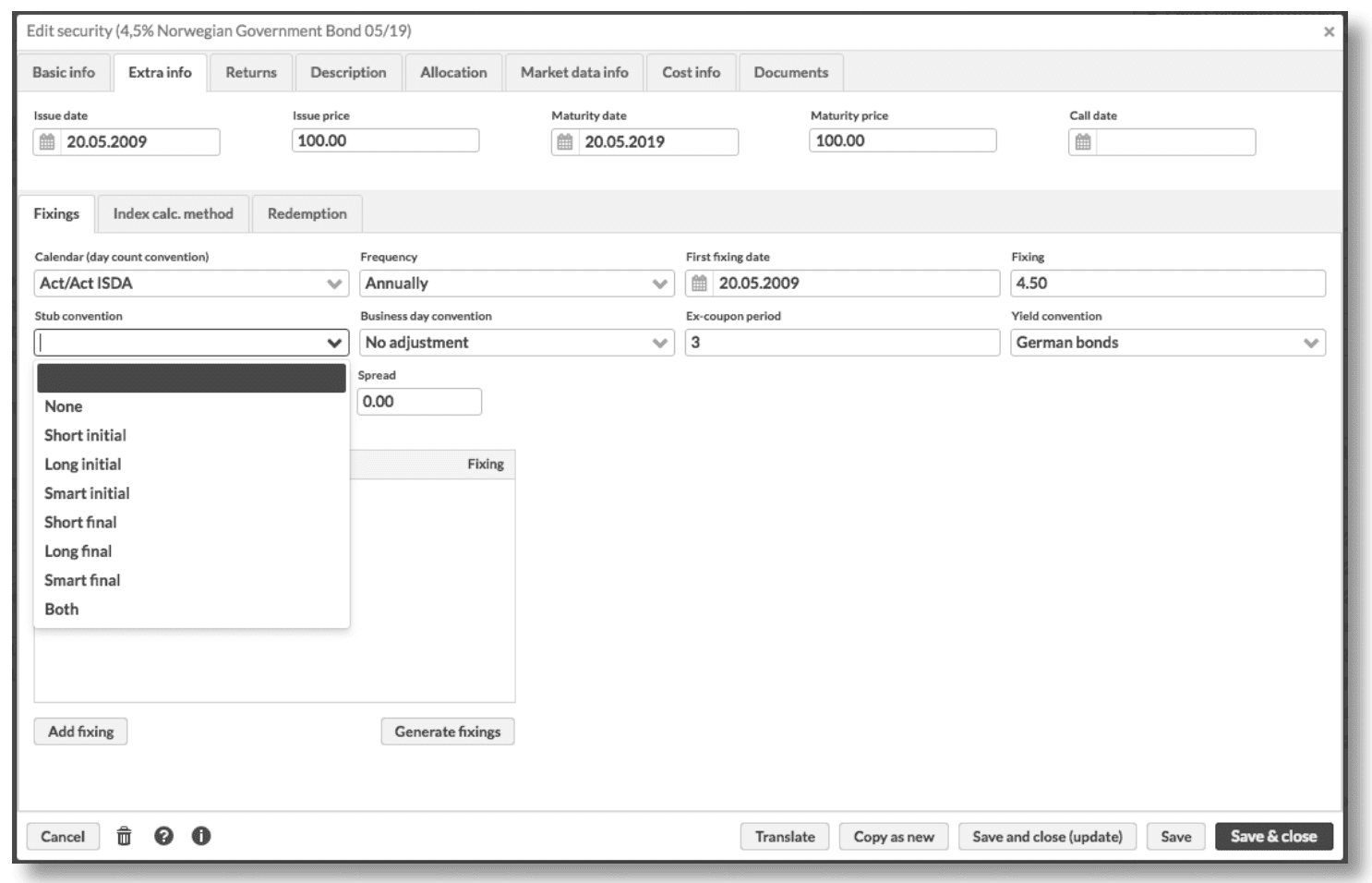 Improvements on existing report features

Now you can define the order of your individual reports in a combined report. Multi-select reports from the Report window in the order you want them to appear and the result is a neat combined report package, that aggregates the data of individual reports.
Usability improvements
Additionally, version 3.1 enhances day-to-day user experience by tackling a few known usability issues:
● Searching for columns
You can now search for columns in all places you are able to select visible columns for a table. No need for endless scrolling anymore.
● "You have modified data"
Contact, Portfolio, and Security windows now track if you have modified the data, and ask you to confirm if you try to close the window without saving your changes.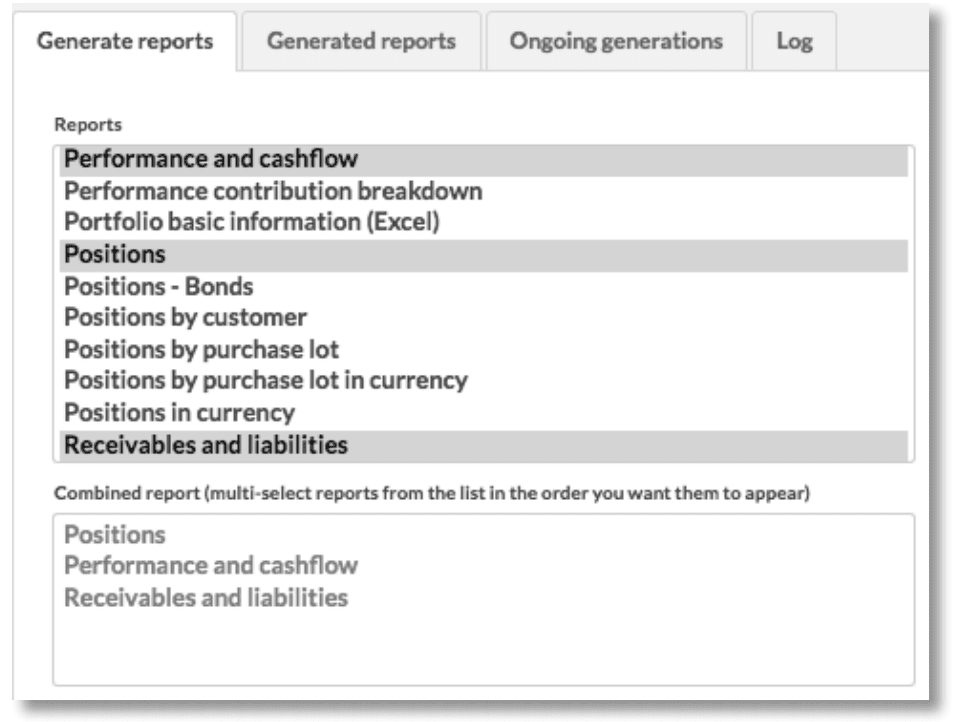 Updated flexibility in reporting
● Better usability of windows
You can now more intuitively add data in Contact, Portfolio, and Security windows:
◦ Add a benchmark, strategy, investment plan or allocation without having to save multiple times
◦ Quickly see the details of your addresses, IDs or accounts
Besides the aforementioned changes, there is a long list of other features and bug fixes – head to our Help Desk to view the full 3.1 FA Back and FA Front release notes. For example, FA Front 3.1 provides you with the possibility to visualize a query result as a chart within your custom content.
If you are interested to learn more about the high-level usability improvements we implemented for the previous version, this blogpost covers the topic in more detail.