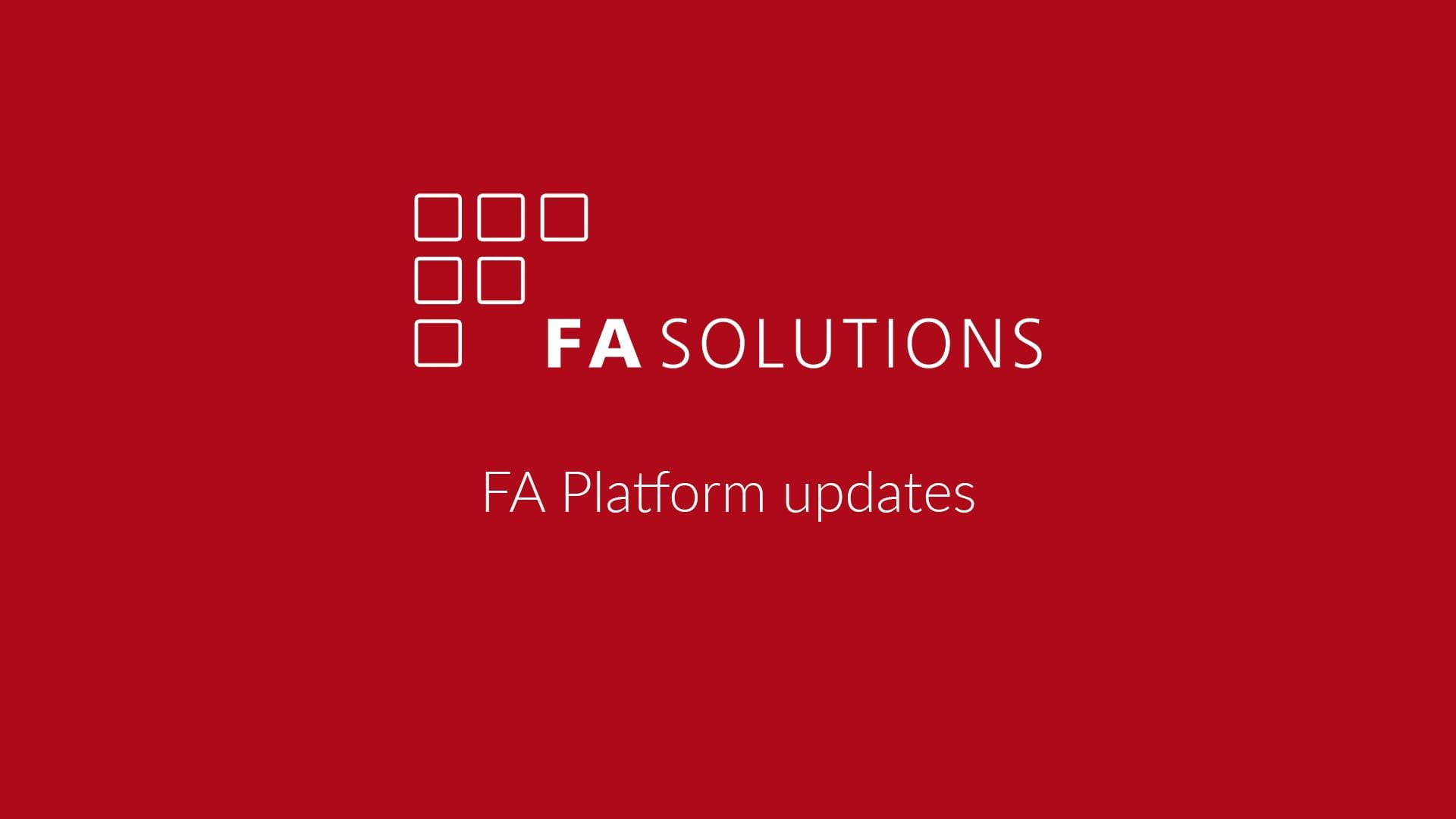 ---
Spring is here and so is the new FA version 3.2! In the previous version, we introduced something completely new on the FA Platform: FX contracts. This version adds further support for FX contracts, allowing users to create three types of FX contracts in the system – Spots, Forwards and Swaps.
The major changes in FA version 3.2 include:
Extended contract management

FX Swaps and valuating contract-based positions

Improved report generation

Report packages and report templates based on queries

Renewed look of FA Front & other improvements
Extended contract management

Support for FX Swap contract type

FX Swap information in Contract window
In addition to FX Spots and FX Forwards from 3.2 onwards you can enter or import, in the standard CSV file, FX Swaps into FA. The FX Swap type in the Contract window contains relevant fields allowing you to enter the required information for the near leg and the far leg, and all of this will be easily accomplished in one window (above). We believe this layout is intuitive, so that you can enter your information effortlessly without missing anything important.
When you save the FX Swap, FA automatically generates future cash flows into your chosen accounts based on the information you filled in.
Valuation of contract-based positions

Valuating contract-based positions
Valuation of contract positions is another significant improvement in FX contract management.
Your FX contracts are now valuated based on the future cash flows they induce. This allows you to comprehensively manage your contract investments and thoroughly analyze your portfolio to see the currency exposure of your investments, for example.
When you save a contract, the system generates a future cash flow for each involved currency stated in the contract and shows them as positions in your portfolio – the same way as your equity positions for example are shown. In addition, the system now calculates the discounted present value of each future cash flow and shows each day's market value of your future cash flow positions.
Reporting
Report packages
Version 3.2 introduces report packages, allowing you to save your combined reports for later use. Using predefined report packages will save your precious time and eliminates the need to select individual reports for your combined report at the end of each reporting period.
You can manage your report packages directly in the Report window, easily save a combined report as a report package with a single click, and flexibly control who to share your report package with, even with multiple report packages.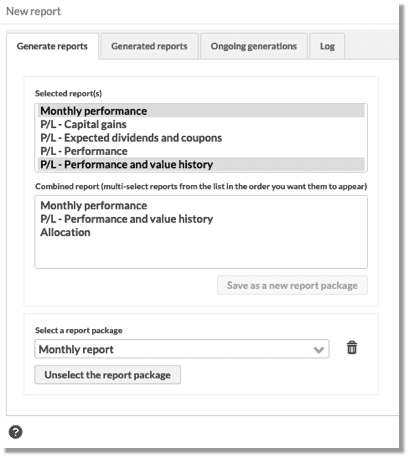 'Monthly report' package selected in Report window
Report templates based on queries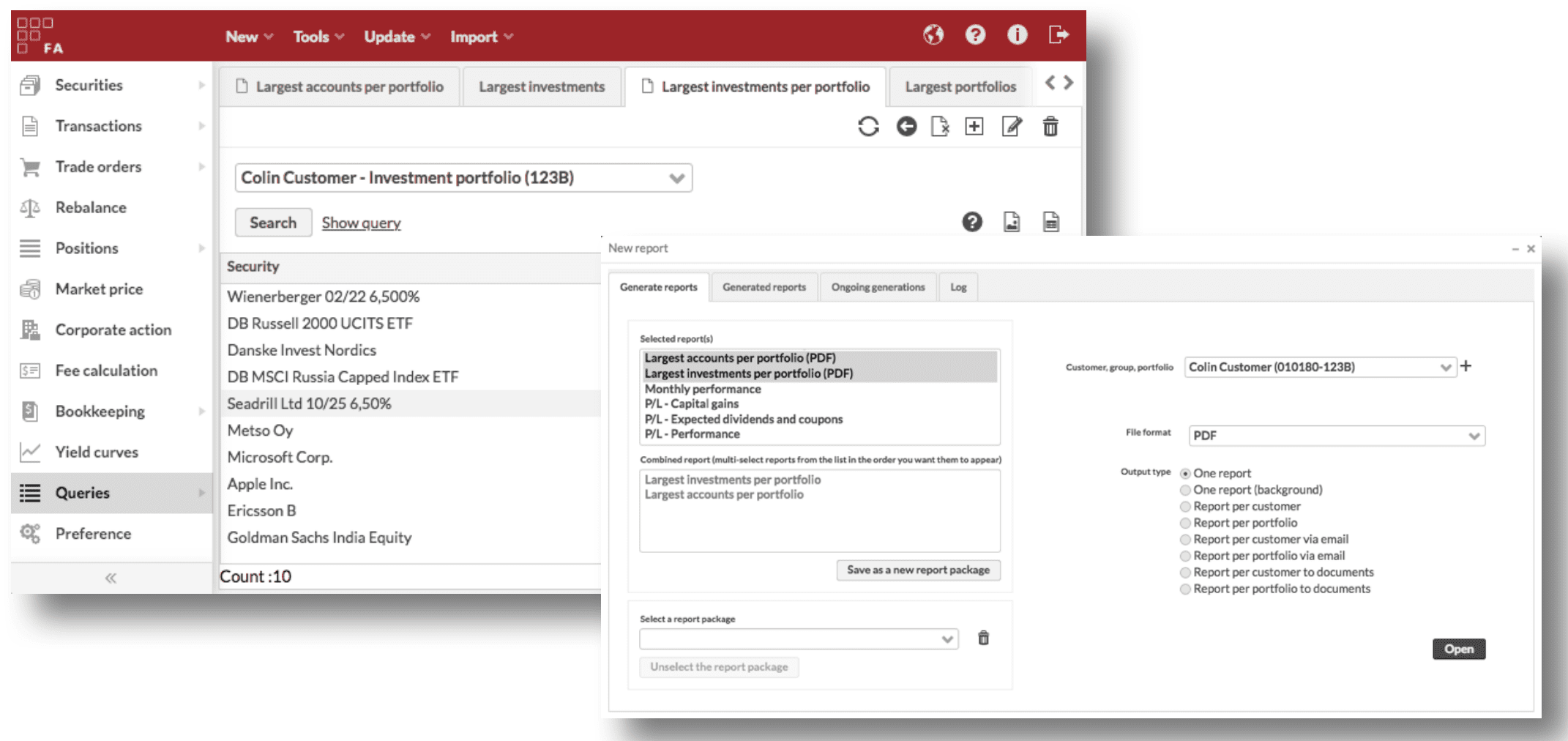 Available report templates based on queries
As a new feature in 3.2, you can dynamically save report templates based on your SQL queries.
This allows you to flexibly and efficiently build your very own reports directly in the system: write a query to fetch the data you want in Queries view, save the query as a report template, and use the template in reporting as you would run any other available PDF report. Using queries effectively puts you in the driver's seat – you get to create exactly the kind of report you need and thus extend the selection of reports in the Report window even further!
Renewed look of FA Front & other improvements

In FA Front, all the gadgets are now reacting to the selected range in the Toolbar gadget. In addition, FA Front has got a renewed look & feel – we hope you love it!