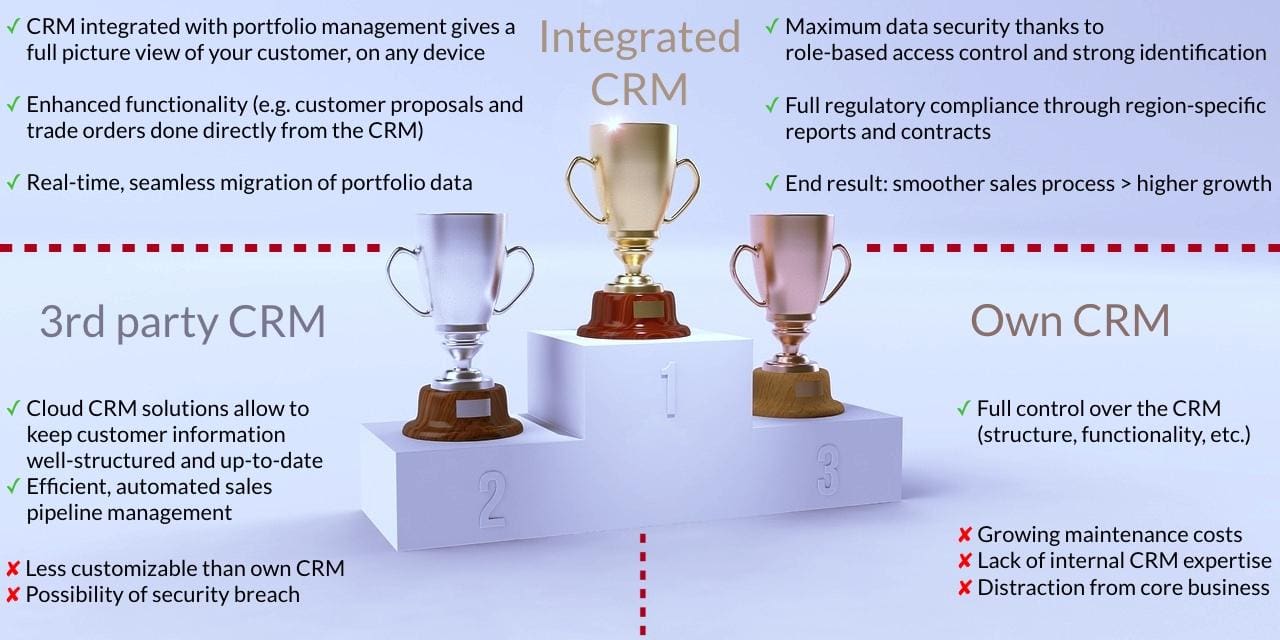 Modern challenges call for modern solutions. If your Asset Management business relies on outdated software for customer data management, you are missing opportunities to optimize sales and improve service quality. A state-of-the-art CRM solution integrated into your core portfolio management tool allows you to avoid burdensome data migration, keep your KYC information compliant with applicable regulations, and execute trade orders more efficiently from both your Front Office's and the client's perspectives.
Companies across the Asset Management industry are facing serious challenges. According to the "Current challenges and solutions in Wealth & Asset Management" report by EY, one of the most difficult tasks is how to adapt the IT systems within the organization to the high standards of the digitalized and globalized competitive environment.
The pressure on financial companies to provide smoother and customized service while margins are shrinking simply cannot be handled without appropriate tools that will optimize background processes, such as managing customer data, to allow businesses to concentrate on what brings actual value.
This is where CRM (Customer Relationship Management) solutions come into play. In the financial industry, they help keep track of important KYC (Know Your Customer) information in order to make sure it complies with local regulations and supports business processes, especially sales.
Unique challenges Asset Management firms face
---
Asset managers have to work longer hours to elevate profits and remain competitive. The main challenges to overcome can be broadly divided into three categories:
1) Legal
First, the regulatory background changes every year, requiring more customer information to be collected and reported. On top of that, the existing KYC data needs to be analyzed to recognize individual risk factors for due diligence purposes. Not only is it required by the authorities, but it also allows increased transparency as a differentiation point to your company.
2) Technological
Another concern of modern Asset Management firms is ensuring that all the client information is maintained in a secure, accurate, and up-to-date manner. The old ways of managing data are prone to human error, unproductive, and fractionalized, making internal cooperation on customer projects difficult. Asset Management companies are now forced to embrace modern cloud-based digital solutions and integrate them with legacy IT systems or upgrade the whole tech infrastructure altogether. The end goal of this transformation is to cut the costs associated with unproductive processes while significantly boosting the quality of service.
3) Operational
Finally, it all comes down to the need for greater operational efficiency. Achieving growth in the times of falling margins means cutting the fat and growing the muscles, so to speak. To respond to ever-increasing investor expectations, Asset Management companies need to fully focus on what brings value – lasting, profitable customer relationships with long-term investment portfolios. Activities that promote reaching this goal, such as providing tailored reports, responding to issues faster, and keeping investors updated on the performance of their assets, should be amplified.
How CRM helps Asset Management firms step up their game
---
The traditional way to handle customer information in financial companies has been through building own data management systems, which required a massive investment and would often fall short of the modern technological benchmarks, as developing cutting-edge IT solutions is not the company's focus.
With more and more attractive relevant software on the market and a growing pressure towards efficiency, Asset Management companies have started switching to modern cloud CRM tools. They allow to pull together all relevant client information in a well-structured environment with real-time updates. Such tools automate the sales processes and do not require time-consuming manual work in this day and age, like tracking the lead progression or creating a custom report.
Besides cutting unnecessary repetitive tasks and freeing salespeople to do their real job – customer-focused selling, CRM tools also give Asset Management firms a strategic advantage. They help managers to easily get a bigger picture of what's going on at any point, recognize issues before it's too late, and spot untapped opportunities for further optimization. It all adds up to smoother internal processes, improved customer service, and ultimately – sustainable growth.
But merely getting an external CRM solution for your Asset Management company is not enough. Whatever tool you choose, make sure it integrates with your existing core portfolio management system, or else you will not be able to harness its full potential.
CRM integrated with portfolio management = efficiency on steroids
---
---
A CRM tool by itself is not much more than a data storage, albeit very convenient. What brings out the best of customer relationship management solutions for Asset Management companies is the integration with core processes that both you and your clients care about the most – portfolio management.
A good example of a fully integrated CRM system is the CRM module within the FA Platform. Not only does it let you communicate with clients directly in the system using emails and SMS as well as keep track of the past interactions, but it also allows asset managers process trade orders right on the spot – from creating the sales proposal matching customer requirements all the way to signing the deal.
Since only people in specified roles can access the information internally, and the system uses strong identification like bank ID for every user, clients can rest assured that their most sensitive data is protected.
Additional benefits of automated, yet customizable reporting and ready-made contract templates that fulfill the local regulatory requirements make FA's integrated CRM module a delight to use, especially for Asset Management companies whose investment portfolios span the globe.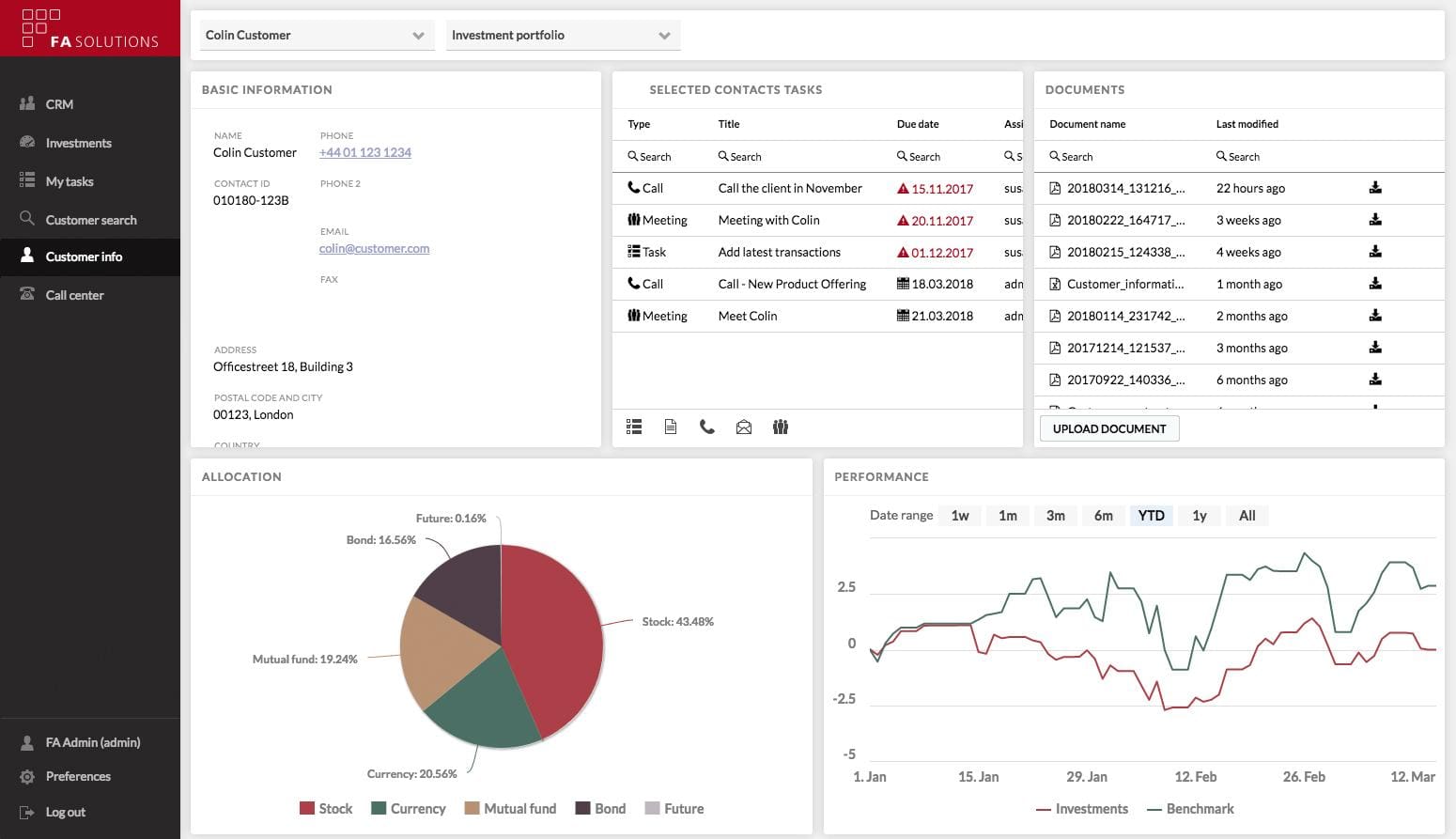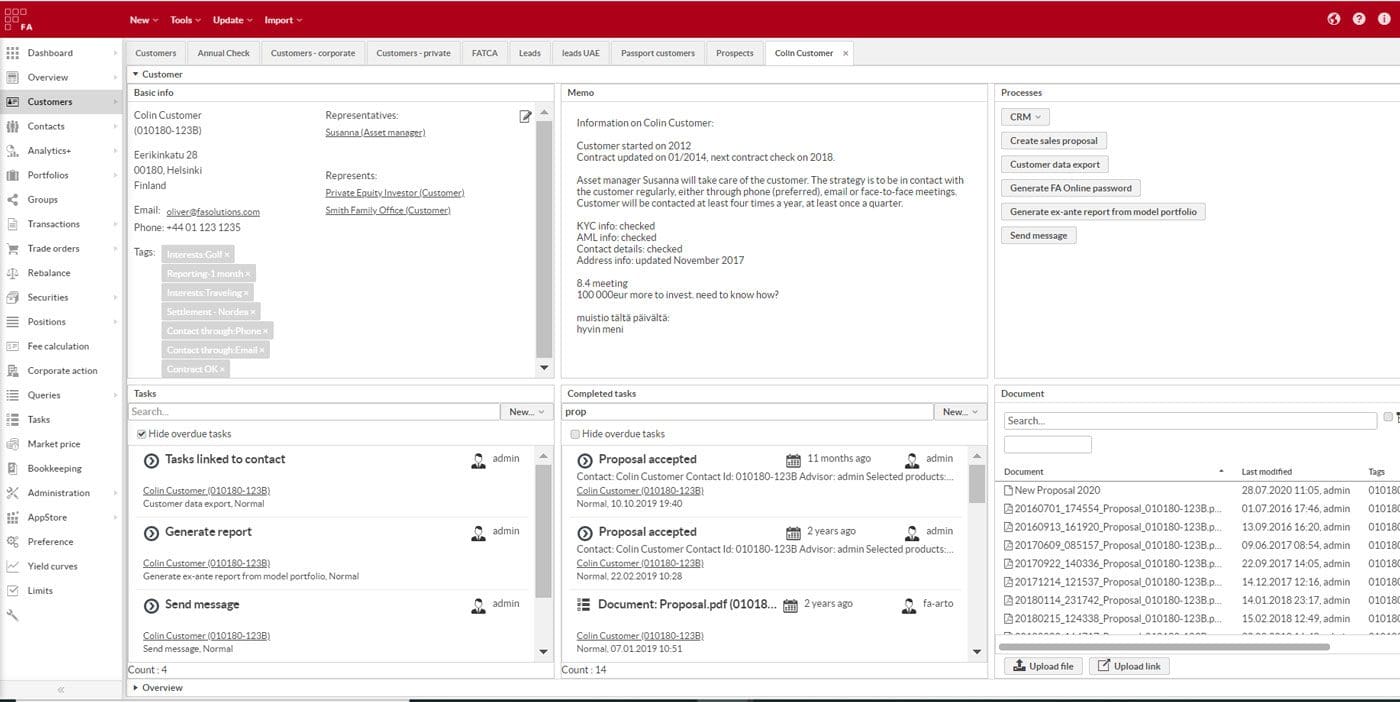 An inside view of the CRM module integrated in the FA Platform
---
With powerful customer relationship management tools, your Asset Management business can keep client information perfectly structured, secured, compliant and up-to-date. And getting a cutting-edge CRM solution that is fully integrated with your core portfolio management system removes the need for burdensome data transfers while easing the internal sales processes to the maximum.