If you are involved in the financial industry, it's almost impossible for you to have missed all the talk about robo-advisory. It's an actively discussed topic in the FinTech community and described as the next disruptive technology in the fields of wealth management and investment advisory. But what does it really mean and who is it for? At FA Solutions we are currently involved in a number of robo-advisory projects, and in this blog we aim to give you our view of challenges and possibilities in this field.
Robo-advisory refers to an online investment management platform that offers investment advice. The term "robo" indicates that there is no human-to-human interaction involved in the advisory process. The advice is based on the information that the user has submitted to the system, and the system interprets the information into an easily understandable format with the help of algorithms. The solution is normally web-based, and may even be available through a mobile app.
Traditional investment advisory is typically offered through a one-to-one relationship where the client pays for advice either directly or through commission or "kickbacks". Robo-advisory offers a new perspective. As a technological, algorithm-based process without human interaction, it is cost-efficient and always accessible for the user as it is available through online and mobile platforms. And to minimise embedded investments costs and complexity, robo-advisory platforms often invest in low-cost securities such as exchange-traded funds. Thanks to a high level of automation, clients can now get sound and robust advice at low cost.
The Robo-advisory business have faced massive growth during the past few years. Starting from almost zero in 2012, it is now projected to reach $300 billion in assets under management by the end of this year. According to A.T. Kearney, robo-advisors could manage as much as $2.2 trillion by 2020.
---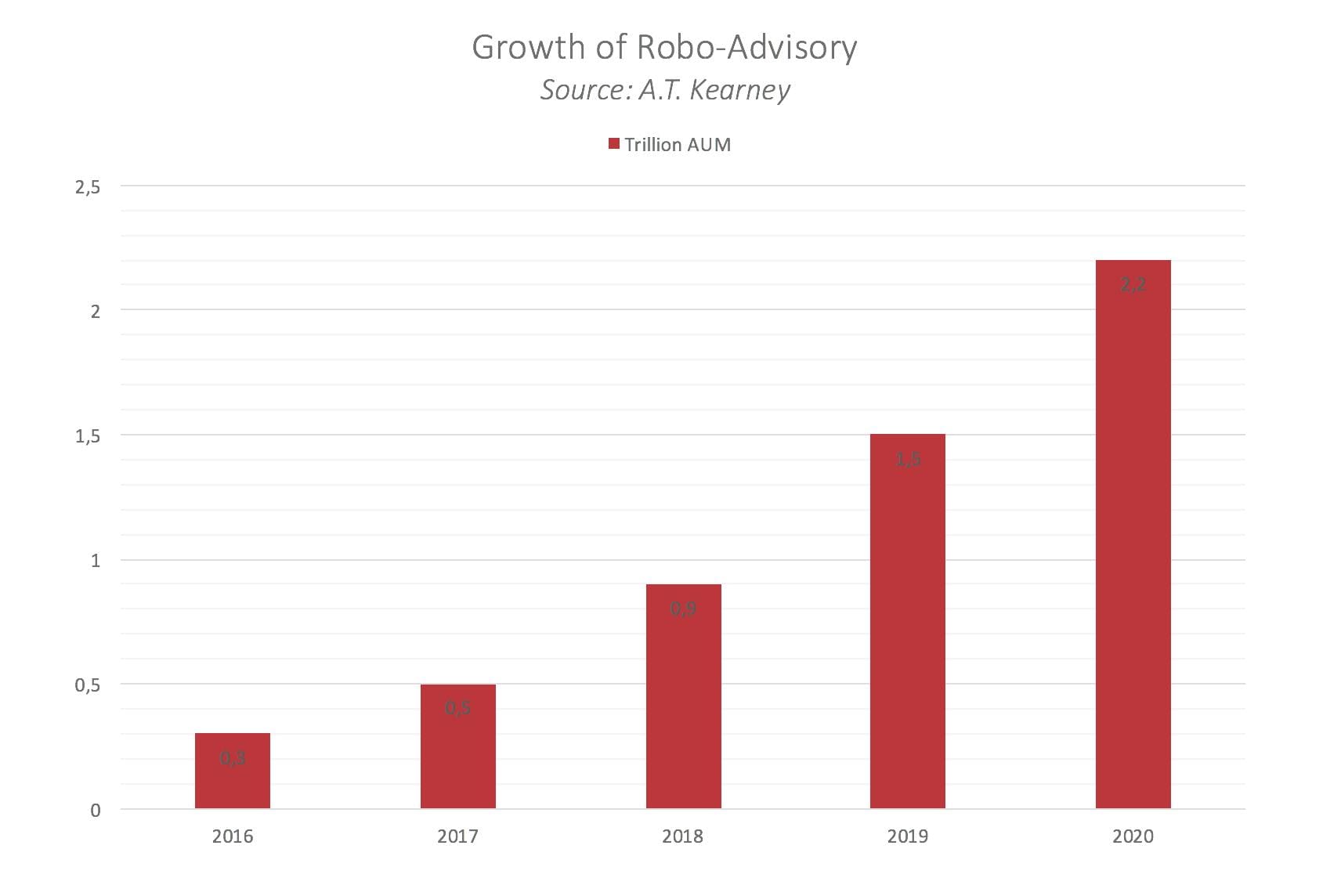 Refuting the myth of "just for start-ups"
Robo-advisory has been regarded as something for start-ups, but we believe it is as relevant for the big players. Combining the benefits of robo-advisory and a brand of an established company could tempt a whole set of new customers, which of course is an important issue in today's competitive environment. Bank of America has already started developing a robo-advisory platform and Morgan Stanley and Wells Fargo & Co. have both expressed an interest towards such activities. "There are generations of tomorrow's investors coming up today who may be more attracted to something less person-to-person and more technologically enabled," John Shrewsberry, CFO at Wells Fargo, stated in June 2015 for Bloomberg.
However, for the big players entering this field they may have to accept lower margins. But with the pace new start-ups are entering the market, we believe it leaves them with little choice.
Combining the benefits of robo-advisory and a brand of an established company could tempt a whole set of new customers.
---
The issue with start-ups is that they normally do not have a full back office and custody setup available. Especially a setup that can manage transactions with numerous banks, counterparties and exchanges, not to mention regulatory reporting and compliance with e.g. MiFID2 in Europe. FA Solutions can provide a full service solution including SEPA payments and Direct Debits, Accounting in different formats, MiFID II mapping of clients, Model portfolio management and trade order and settlement instructions to name but a few functions required. What our clients should focus on is their core business idea; algorithms for selecting model portfolios, mapping client requirements and the user interface.
Robo-advisory can help lowering the threshold for new customers. It can be an effective way for wealth managers to serve entry-level customers who might not have that much to manage – yet. However, at FA Solutions we are convinced that robo-advisories will soon be offered to the High Net Worth clients that are simply looking for something smarter, more accessible, transparent and easier to understand.
---
FA Solutions as Back Office for Robo-Advisors
---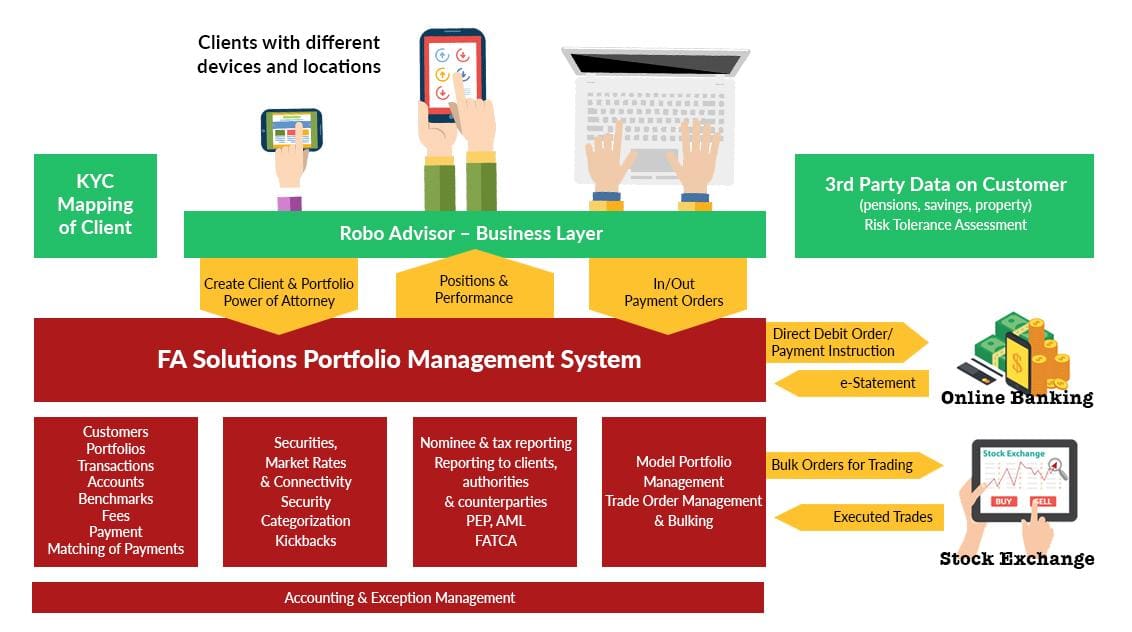 ---
We at FA Solutions have knowledge and experience of various robo-advisory projects. With our top modern yet comprehensive solutions, our robo-advisory clients can focus on what will be unique in their offering. FA will take care of the rest, with as high level of automation as possible. Leave your contact details for more information.