During the last couple of months there has been a lot of hurry and excitement on the recruiting side – going through applicants, interviewing potential candidates and orientating the new team members. Now as the first round of newcomers has been welcomed to FA Solutions, it is time to introduce them also here in our blog: say hello to Mikko the Project Manager and Joonas the Junior Account Manager!
Mikko Suomi
"My name is Mikko Suomi, I'm married, I have two kids and a house in Vantaa ,and I'm driving a Volvo.
I started my career about 20 years ago at United Bankers back office and after that I worked at Nasdaq in Finland and Sweden. The latest 5 and half years I worked at Digia with Financial Solutions projects as a Project Manager. I had a chance to have several different roles within project management, sales and project process improvement.
In FA Solutions I will work as Project Manager and will also most probably participate in sales activities as well.
What new I will bring to FA Solutions? I think I will bring some more experience in Project Management side as well as the attitude of getting things done. I will also bring positive energy with my positive attitude. I am fully motivated and eager to learn new things.
In my spare time I like to do all kinds of sports like CrossFit and cycling. I am very competitive person so I like to challenge myself (and others) in sports as well as in business."
---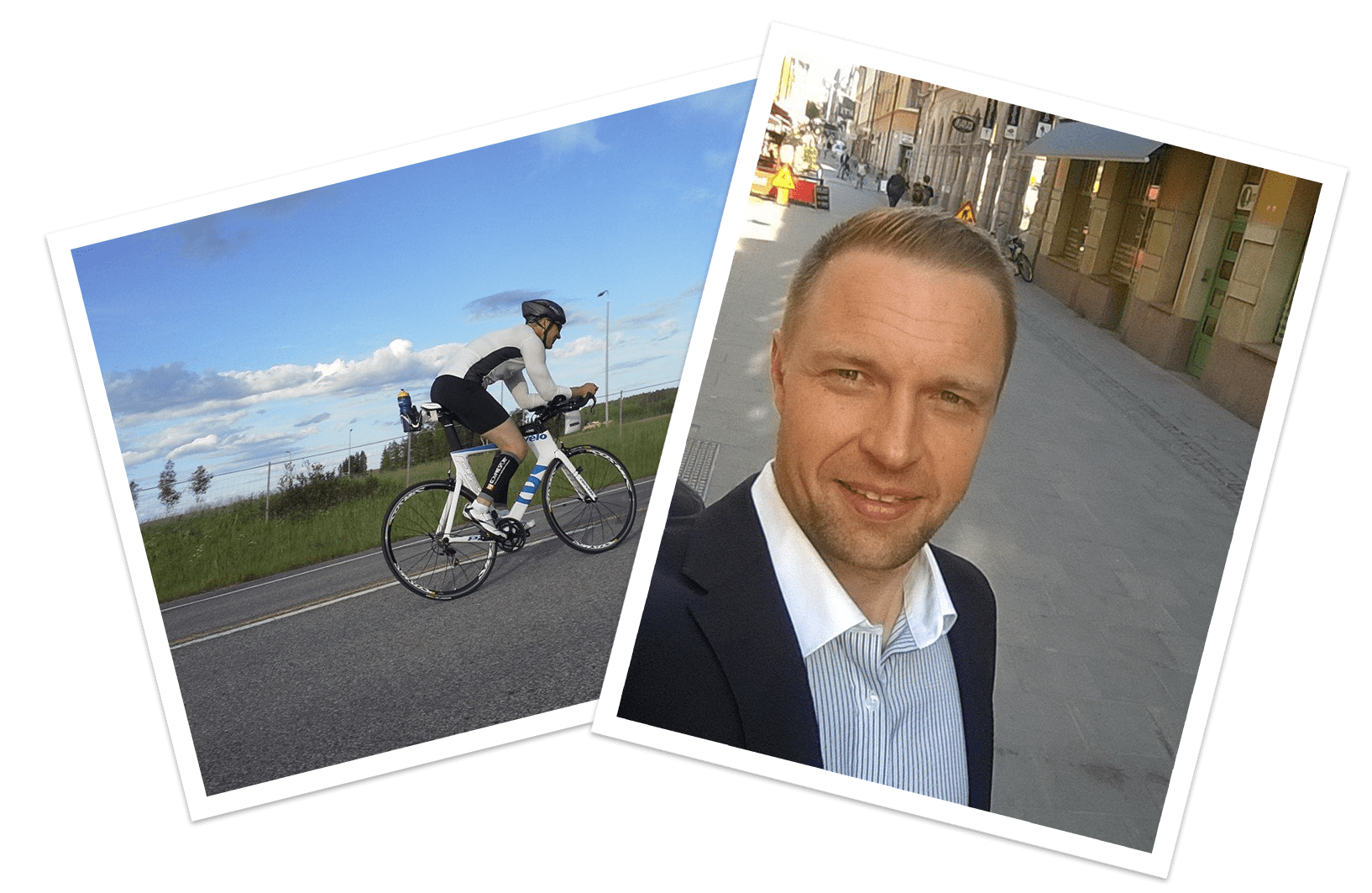 Both sides of Mikko – from sports to business!
---
Project Manager
mikko.suomi(a)fasolutions.com
+358 40 700 9977
Helsinki
Connect with Mikko
Joonas Vikström
"Shark and angel investor Robert Herjavec mentioned two important thoughts in his recent blog post about selling anything to anyone. Firstly, great salespeople are made, not born. Secondly, no one achieves success in life without knowing how to sell. Those are quite hard judgements. Despite, my personal outlook of life has been something similar from the very beginning of my studies and career. I guess that it what has been driving me all the time deeper and deeper to the financial industry and eventually to the FA Solutions' sales team.
My career isn't that long yet. I'm just 25 years old and about to reach the finish line of my studies. My primary subjects in University of Tampere are risk management and insuring. I've been working summers in LocalTapiola as a service advisor for household customers. Last summer I proceeded to corporate insuring serving mostly small-sized companies and entrepreneurs with their daily insurance issues. We also launched a new partnership with a crowdfunding company in which I participated.
According to the kick-off meeting that we just had couple of weeks ago in Tahko with the FA team, the role of an Account Manager tends to have high expectations already at this point. Account Management will form a solid base for customer service and maintaining the customer relationships overall. It's highly important for both parties, the customers and us, to make the most out of our mutual journey. With a massive amount of positive excitement and attitude, I'm ready to face the expectations.
Looking forward to be part of this great team and achieve the success together!"