Software for
---
Asset & Portfolio Management
---
your business.
Portfolio Management
Handle any kind of asset types and complex portfolio structures in our real-time, transaction-based portfolio management system.
Customer Onboarding and CRM
Our solution supports regulatory compliant client onboarding, CRM designed for the financial industry, and secure online access for your end customers.
Order Management and Trading
Manage an entire life cycle of a trade in an integrated, compliant, and transparent way. Send orders to your preferred broker, and monitor the status and execution information in real time.
Compliance
Integrate pre- and post-trade compliance seamlessly into your workflows.
Corporate Action Management
Automate the time-consuming, cumbersome aspects of corporate action management.
Model Portfolio Management
Apply your models to your portfolios efficiently with FA's intelligent rebalancing logic.
FA Solutions is your "one stop shop" for replacing multiple software platforms with a single software platform to run your Asset Management business. Whether you're an equity-based local advisor or a full-scale enterprise with global multi-asset-class portfolios with complex PE-instruments, we offer a solution to suit your needs and business processes.
Our FA Platform allows you to handle any kind of asset types and multi-dimensional portfolio hierarchies in real-time, using a transaction-based portfolio management system, that provides you a solid base for your Investment Book of Records (IBOR). We support you in running your business as required by the regulations of the financial industry, such as MiFID II: gathering background information (e.g. KYC, AML, PEP), providing investment advice and product information (incl. PRIIPs, KID), managing customer relations, delivering proposals, closing deals, generating trade orders and communicating with trading venues, reporting automatically and on demand, recording audit trails, and much more.
With the FA Platform you can easily automate monotonous and painstaking processes, such as regulatory reporting (FATCA, CRS, MIFIR, etc.), data aggregation from external sources (APIs, SWIFT), corporate action management, and accurate fee calculations.
To harmonise customer service and enhance usability, our solution supports a multi-channel approach on desktop, mobile or tablet.
Integrated CRM module with client and investor data
Real time position, transaction and performance information
Business intelligence reporting capabilities
---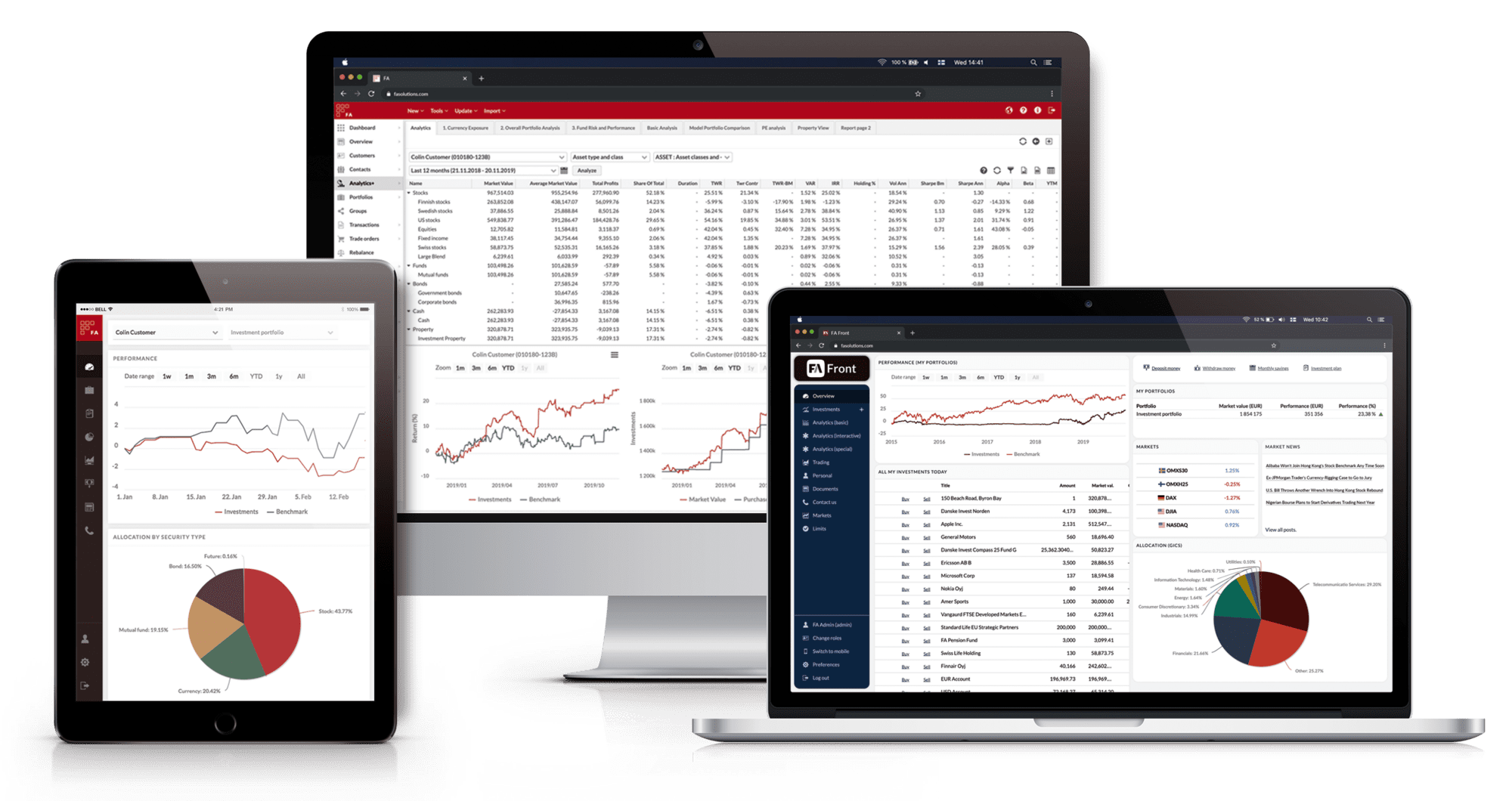 Automated reconciliation of trade information, settlement data, transactions and positions
Dashboards for summary data at a glance
Advanced query and search capabilities
"Finance Active and FA Solutions have created a new innovative solution which combines multiple engines in one system with a superior user experience.Pelle Holmertz, Kommuninvest
Monitoring and reporting the overall picture of our financial position is easier when the liabilities and assets are manageable in one system. In addition, we can make the city's financial management more transparent, which is particularly important for a public organization.Kari Pentti, Financial Manager at City of Turku.
The solution gives us a platform to handle our growing securities and customer base.Kimmo Lönnmark, Privanet
Request a free demonstration
---