Software for
---
Single Family Offices
& Private Investment Offices
---
Bring your family office back in control.
Manage Any Kinds of Assets
FA Platform brings together all your assets – not only monetary but also art, real estate, and vehicles.
Effortless Data Consolidation
Aggregate all data from external mandates for tracking, comparing, reporting their performance, and fees.
Accurate Investment Analysis
Get a comprehensive overview of your investments and analyse your portfolios from different angles.
Automated Reporting
Consolidated reports for customers, authorities, and stakeholders can be generated with a single click or fully automatically.
---
FA Solutions brings the management of your family office into one software platform. The FA Platform enables you to aggregate your transactions and assets from your banks, asset managers, in-house trading, unlisted and private equity, real estate, as well as assets of passion and philanthropic engagements into one place.
Whether you are managing just your own family or a group of families and friends. FA Solutions can automate numerous time consuming routines and procedures. Our platform simplifies analysis, reporting, and accounting so you can focus on managing your business and investments.
Outsourced reconciliation and data management option
Dashboards for summary data at a glance
---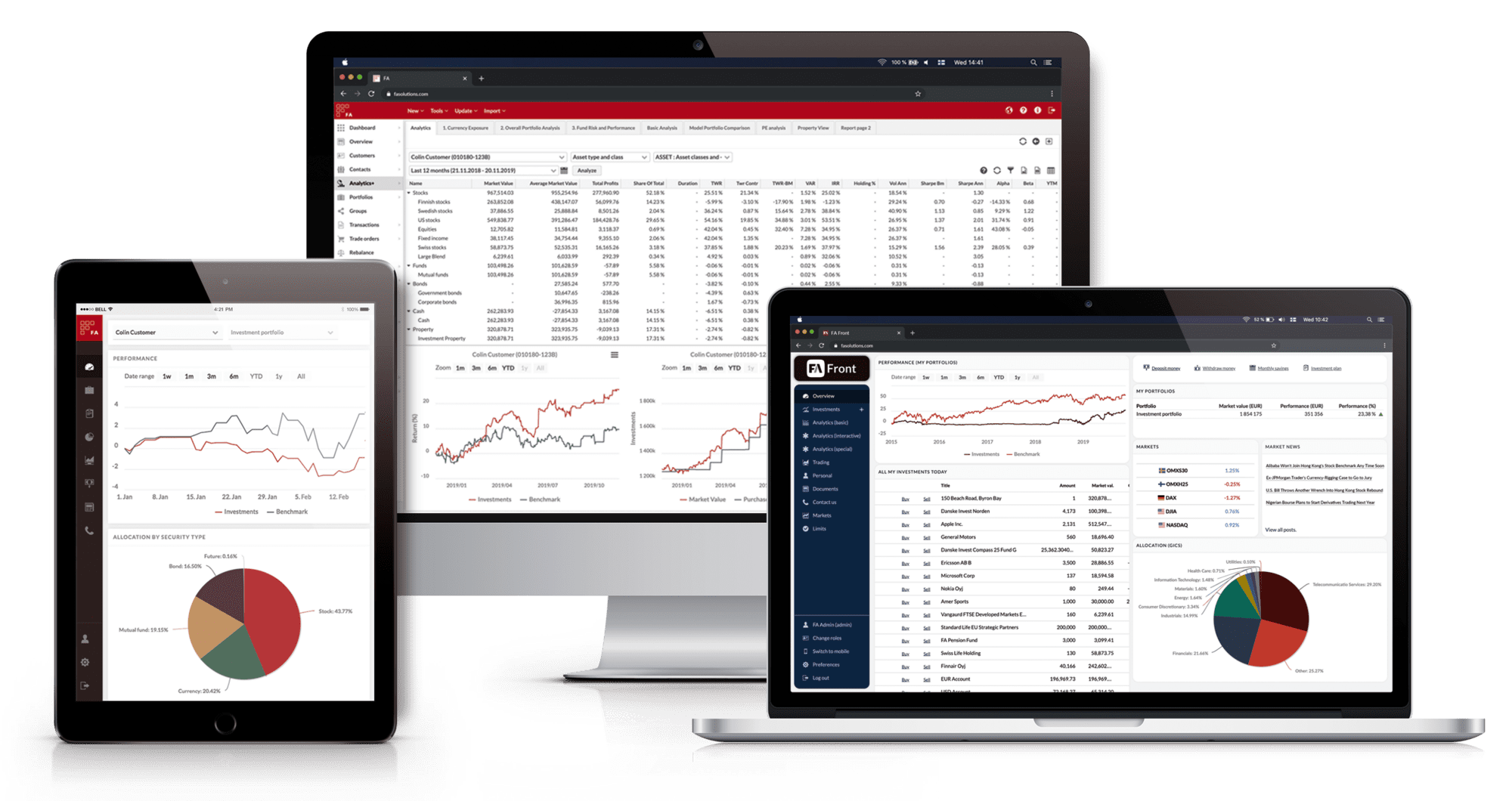 Automated reconciliation of trade information, settlement data, transactions and positions
Advanced query and search capabilities
Business intelligence reporting capabilities
GIPS-compliant composite reporting and maintenance
We selected FA Solutions as they delivered us a flexible solution to enable the expansion of our business.Bobby Weijmar, Adecla
The family office business is to make investment decisions when it is needed, and therefore we wanted to have a 24/7 access to our investment portfolios from anywhere. That's what we got from FA.Topi Piela, Ulkomarkkinat Oy
FA's portfolio solution is the perfect portfolio management tool for JAM.Christian Borgström, JAM Advisors
Request a free demonstration
---