Software for
---
Independent Financial Advisors
& Distributors
---
Portfolio Management
Handle any kinds of asset types and complex portfolio structures in our real-time, transaction-based portfolio management system.
Compliance
Integrate pre- and post-trade compliance seamlessly into your workflows.
Automated Reporting
Reports for customers, authorities and stakeholders can be generated with a single click or fully automatically.
Customer Onboarding and CRM
Our solution supports regulatory compliant client onboarding, CRM designed for the financial industry, and secure online access for your end customers.
---
Our solution for Independent Financial Advisers allows you to handle any kind of asset types and multi-dimensional portfolio hierarchies in a real-time, transaction-based portfolio management system, providing you with a solid base for your Investment Book of Records (IBOR).
FA Platform supports your business as required by the regulations in the financial industry, such as MiFID II: gathering background information (e.g. KYC, AML, PEP), providing investment advice, managing customer relations, delivering proposals, closing deals, generating trade orders, reporting automatically and on demand, recording audit trails, and much more.
With FA Platform you'll find it easy to compare positions, solutions, and analyse your customer's situation to provide highly personalised services. You can easily automate cumbersome and laborious processes, such as regulatory reporting (FATCA, CRS, MIFIR, etc.), data aggregation from external sources (APIs, SWIFT), and accurate fee calculations.
With us you get the efficiency, flexibility, and transparency you need to meet your business goals and the tools you need to provide a highly personalised and tax efficient service.
Top features for IFAs & Distributors
---
Real time position, transaction and performance information
Dashboards for summary data at a glance
Advanced query and search capabilities
---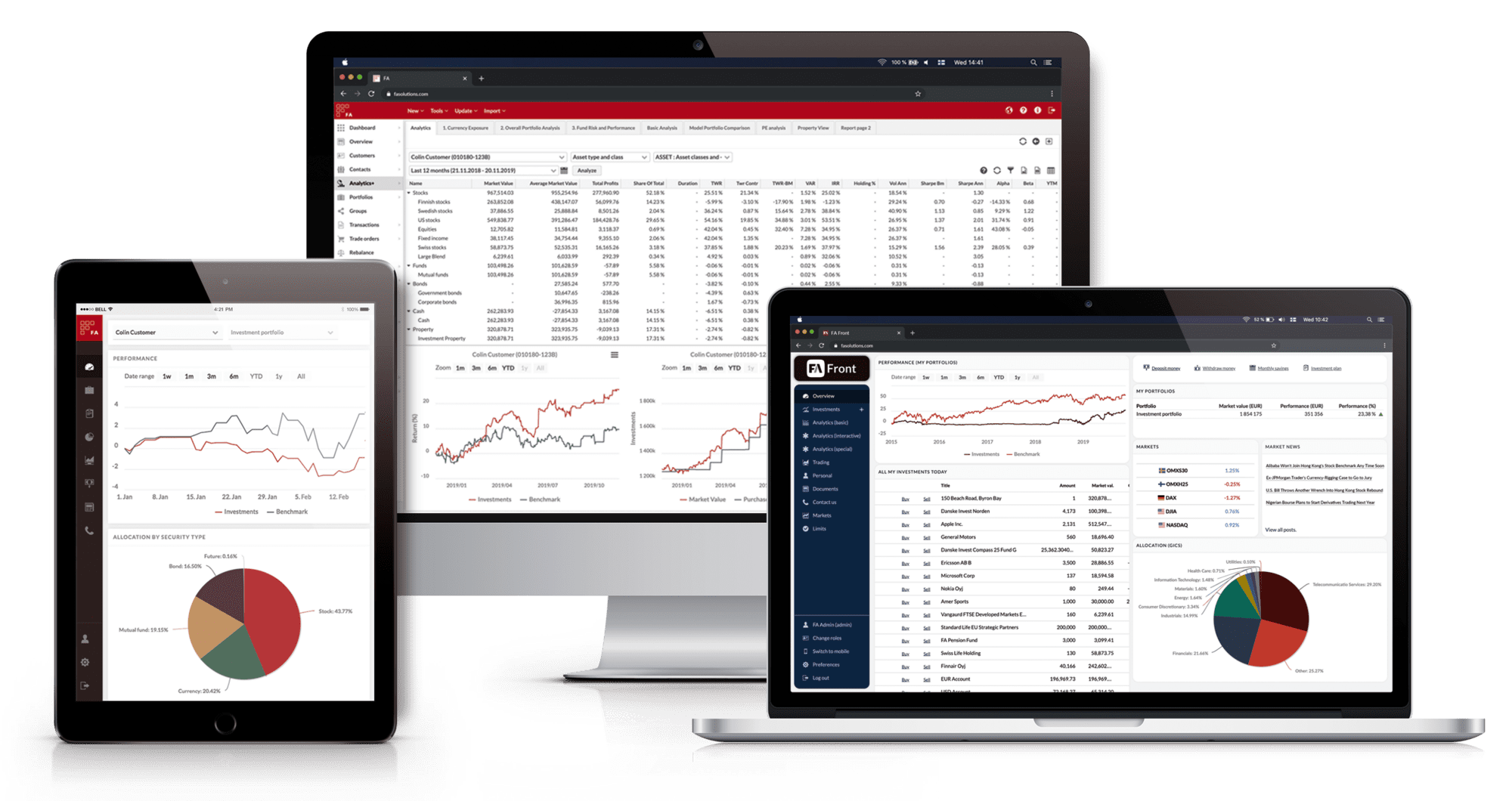 Business intelligence reporting capabilities
Automated reconciliation of trade information, settlement data, transactions and positions
GIPS-compliant composite reporting and maintenance
Outsourced reconciliation and data management option
FA's portfolio solution is the perfect portfolio management tool for JAM.Christian Borgström, JAM Advisors
FA's software adapts flexibly to our critical business processes rather than the other way around.Ville Hellens, Alexandria
Request a free demonstration
---