Software for
---
Institutional Investors & Pension Funds
---
Your business
Portfolio Management
Handle any kind of asset types and complex portfolio structures in our real-time, transaction-based portfolio management system.
Automated Reporting
Reports for customers, authorities and stakeholders can be generated with a single click or fully automatically.
Carefree Accounting
Reduce administrative burden by transforming transaction data automatically into accounting entries.
Corporate Action Management
Automate the time-consuming, cumbersome aspects of corporate action management.
---
Whether you're an equity-based local investor or a full-scale pension fund with global, multi-asset-class portfolios with complex PE-instruments, we offer you a solution to suit your needs and processes.
With us you'll have a true control of all your assets including real estate, private equity and more. We offer you a technology platform that supports all your business requirements and processes – in one convenient secured cloud. This platform provides fast and easy access to accurate and reliable data, which is a necessity for accurate analysis and reporting in internal and external use.
---
Top features for Institutional Investors & Pension Funds
---
Real time position, transaction and performance information
Integrated CRM module with client and investor data
Dashboards for summary data at a glance
---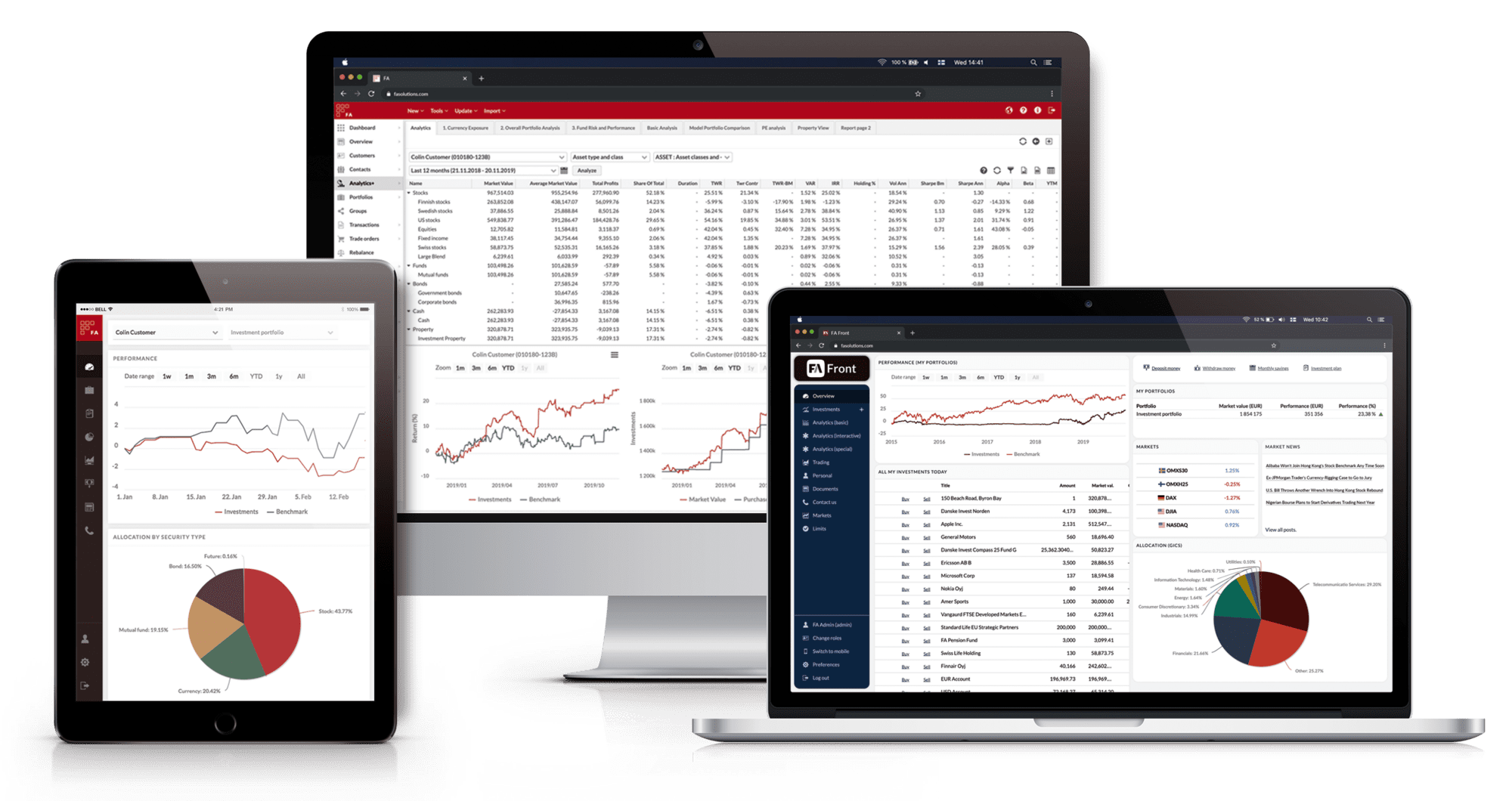 Automated reconciliation of trade information, settlement data, transactions and positions
Advanced query and search capabilities
Business intelligence reporting capabilities
GIPS-compliant composite reporting and maintenance
Finance Active and FA Solutions have created a new innovative solution which combines multiple engines in one system with a superior user experience.Pelle Holmertz, Kommuninvest
Monitoring and reporting the overall picture of our financial position is easier when the liabilities and assets are manageable in one system. In addition, we can make the city's financial management more transparent, which is particularly important for a public organization.Kari Pentti, Financial Manager at City of Turku.
FA's solution gives us a platform to handle our portfolios with complex instruments and report them on demand.Ann-Sofi Palin, Sigrid Juselius Foundation
Request a free demonstration
---