Software for
---
Life & Unit-linked Insurance
---
New Era of Life Insurance Business with FA
Customer Onboarding and CRM
Our solution supports regulatory compliant client onboarding, CRM designed for the financial industry, and secure online access for your end customers.
Portfolio Management
Handle any kind of asset types and complex portfolio structures in our real-time, transaction-based portfolio management system.
Product Management
FA Platform allows you to easily manage any kind of instruments, even the most complex Packaged Retail Investment and Insurance-Based Products (PRIIPs).
With FA you can achieve enterprise-wide workflow control and transparency with our tailor-made insurance solution. FA Platform enables you to control and manage sales process, activities and product offerings (e.g. PRIIPs). You also can manage your business portfolio overview, overview of performance measurement figures and compliance limit exposure. The solution is fully integrated with cost and fee calculation, reporting and documentation (e.g. KID), and all the other FA Platform features.
We can reduce your IT-infra costs while offering more flexibility and control to your business. With us you get automated workflows and task management with real time position and transaction view.
FA Platform reduces your operational costs and risk, allows efficient and timely generation of new products, strategies, and supports a variety of investment processes – all on a single platform. These factors help in strengthening your competitive advantages and streamlining daily tasks.
---
Real time position, transaction and performance information
Integrated CRM module with client and investor data
Dashboards for summary data at a glance
---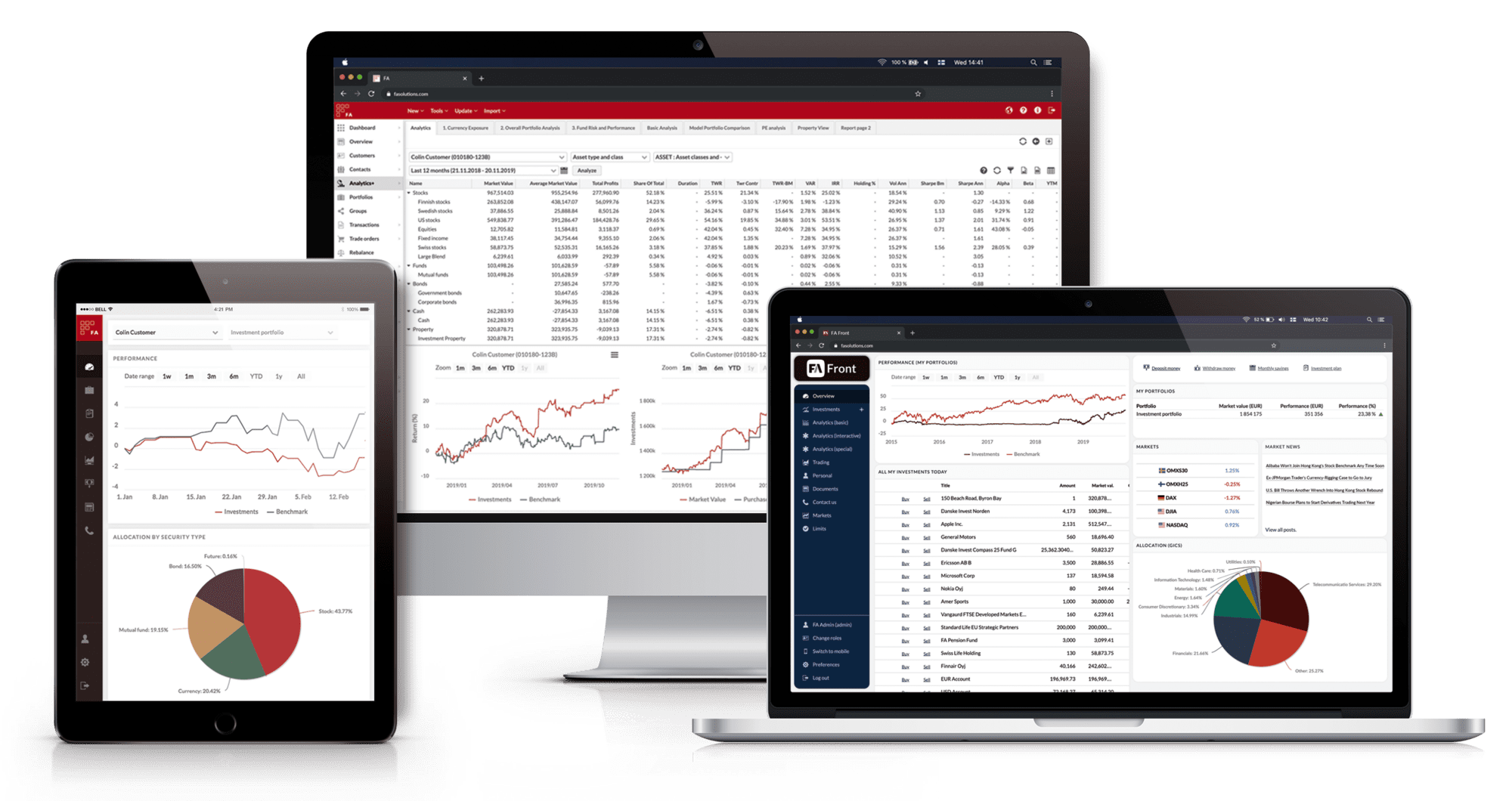 Automated reconciliation of trade information, settlement data, transactions and positions
Advanced query and search capabilities
Business intelligence reporting capabilities
GIPS-compliant composite reporting and maintenance
Our customer stories
FA Platform has increased the opportunities for investment advisors to make the most precise proposals possible.Tommi Elomaa, LocalTapiola Private
Request a free demonstration
---