Software for
---
Markets & Brokerage
---
your business.
Product and Portfolio Management
Handle any kinds of asset types and complex portfolio structures in our real-time, transaction-based portfolio management system.
CRM designed for the Financial Industry
Gather all relevant data for efficient management of potential and existing customers as required by regulations.
Online Access for Your Customers
Let your customers place orders whenever they want and wherever they are with personalised secure authentication.
Transactions and Trade Orders
Manage an entire life cycle of a trade in an integrated, compliant, and transparent way.
Send and Receive Payments
Automatically generate, send, track, and receive payment messages.
Automated and On Demand Reporting
Automated and on demand reporting for authorities, customers and other stakeholders.
---
With FA's end-to-end software solution, brokers can optimise their front office operations including fund raising and deal flow management, as well as their back office operations including product and portfolio management and accounting, fee allocation and financial reporting. Users can also easily track the performance of portfolios and view performance information at any level of portfolios investment structure.
FA's solution for markets also includes integrated web portal to facilitate the secure communication of financial and non-financial information to clients or counter parties.
---
Real time position, transaction and performance information
Dashboards for summary data at a glance
Advanced query and search capabilities
---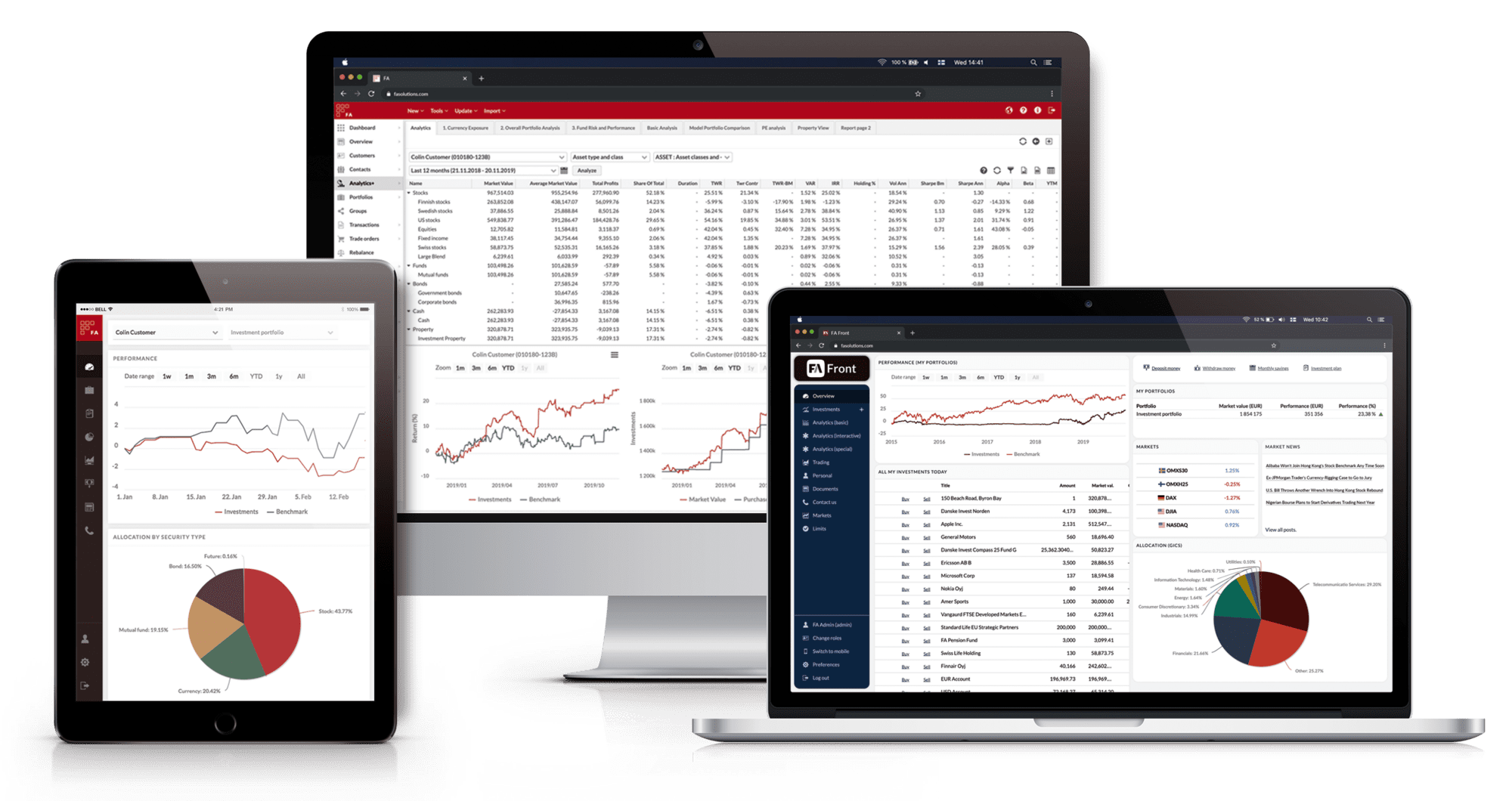 Automated reconciliation of trade information, settlement data, transactions and positions
Business intelligence reporting capabilities
GIPS-compliant composite reporting and maintenance
Outsourced reconciliation and data management option
Our business is about connecting the investor and the growth-seeking company. The FA platform enables us to handle our growing securities and customer base. FA Solutions was a right choice for us due to their solution portfolio and knowhow, and we are happy with the solution Kimmo Lönnmark, CEO of Privanet.
FA's software adapts flexibly to our critical business processes rather than the other way around.Ville Hellens, Alexandria
In early 2013 we started to seek out a solution for us – FA was a right choice due to their solution portfolio from sales to back-office. The solution gives us a platform to handle our growing customer base. We are happy with the solution and thanks to FA's knowhow deployment process went smoothlyHenry Nurminen, Managing Director of SP Capital.
Request a free demonstration
---