Software for
---
Private Equity Management
---
your business.
Investment Management
Handle any kind of asset types and complex portfolio or fund structures in our real-time, transaction-based system.
Automated Reporting
Reports for customers, authorities and stakeholders can be generated with a single click or fully automatically.
Private Equity Analysis
Analyse your PE investments through a set of key figures, such as commitments, paid in capital, distributions, IRR, DPI, RVPI and TVPI.
---
Our offer for Private Equity investors and funds is a state-of-the-art software solution with capabilities to modify and add new instrument and transaction types on the go. You can streamline the handling of increasingly complex investment structures, regulatory requirements and analysis demands with the FA Platform.
FA Platform provides extensive tools for managing Private Equity investments by allowing you to track commitments and manage Private Equity transactions such as additional commitments and capital calls. You can also easily analyse your Private Equity investments through a set of key analytical figures, such as remaining commitment, committed capital, paid in capital, distributions, IRR, DPI, RVPI and TVPI.
We deliver a solution that fits your needs and also easily grows with your business.
---
Integrated CRM module with client and investor data
Real time position, transaction and performance information
Dashboards for summary data at a glance
---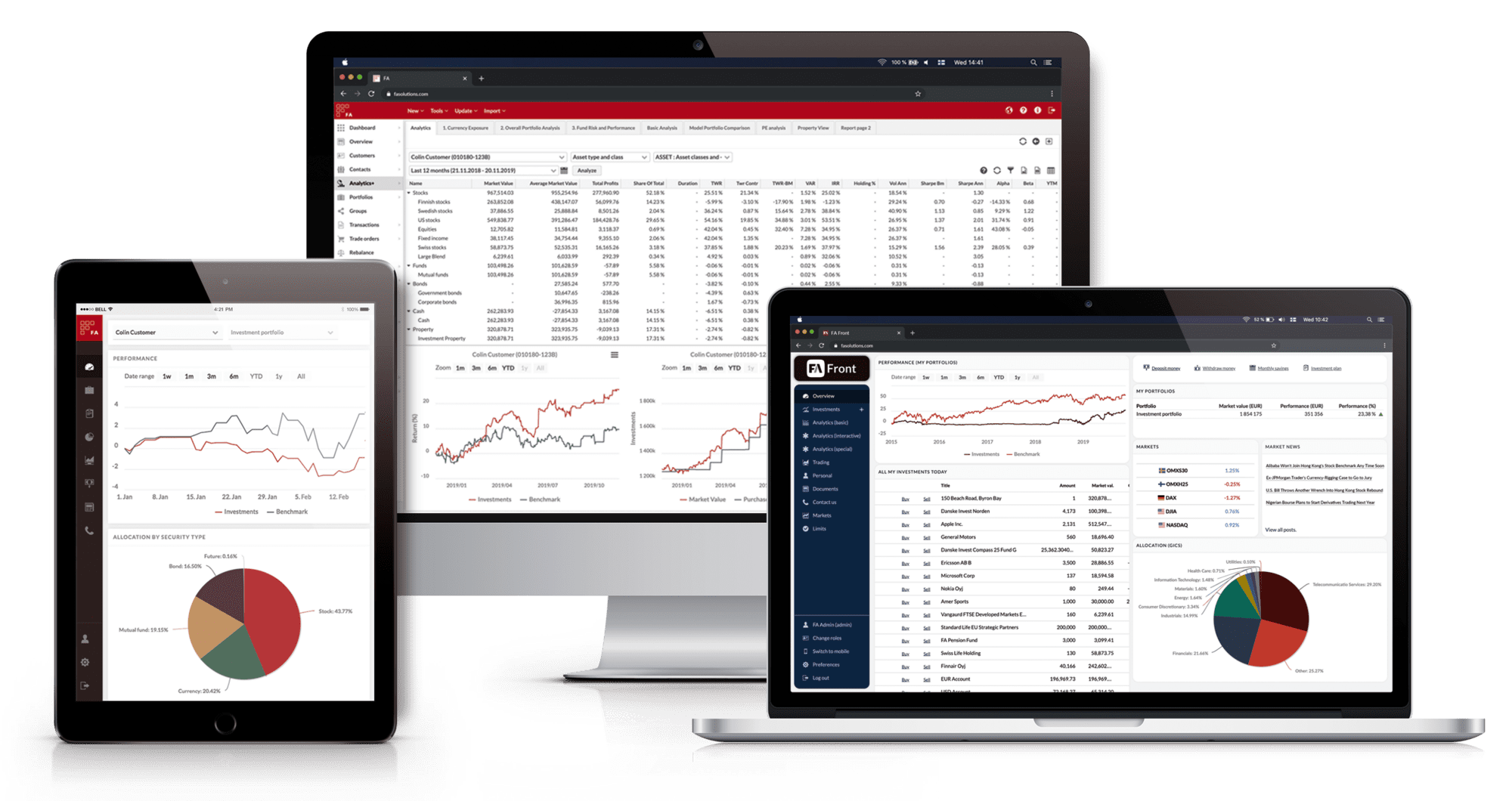 Advanced query and search capabilities
Business intelligence reporting capabilities
Automated reconciliation of trade information, settlement data, transactions and positions
GIPS-compliant composite reporting and maintenance
FA Platform enables us to handle our growing securities and customer base.Kimmo Lönnmark, CEO of Privanet
FA's solution gives us a platform to handle our portfolios with complex instruments and report them on demand.Ann-Sofi Palin, Sigrid Juselius Foundation
With FA's solution we can effectively and easily handle our portfolios with complex instruments.Christer Nyholm, Konstsamfundet
Request a free demonstration
---