For a millennial like me it feels unbelievable that companies are still using fax in their daily operations – I wouldn't even know how to operate that machine. During my almost two years at FA Solutions I have gained a wide overview of the financial industry and one major remark is that apparently dinosaurs still exist here. And unfortunately, fax is not the last residue of manual work, which makes me wonder whether the costs of manual processing are ultimately paid by the end investors.
A substantial proportion of fund orders are still transmitted by fax and processed manually. EFAMA estimated that more than 17 percent of the 6 million fund orders in Luxembourg and Ireland were still being processed manually at the end of 2014. The argument for fax usage seems to be that it is considered safer than email, but there is no truth in that. The next step would be electronic SWIFT messaging, which truly is an improvement on streamlining fund trading after the fax era. In fact, the SWIFT message technology itself is as old as faxing, although the first "SWIFTers" in the Nordic fund industry were not seen before 2015.
You should not expect your clients to stay with you if your neighbor starts to offer similar products, but with a lower price tag.
---
Digitalization in the fund industry is still in the toddler stage.
In 2017, fund order processing is only one of the many administrative processes that are still handcrafted in back offices around the world. Unfortunately, this is not just a problem of old-fashioned fund companies, but it is also reflected in investors performance, in terms of high costs.
High processing costs might not have been a problem back in the days when the cost of manual labor was the same for everyone within an industry. Nowadays the situation is different due to the cost-cutting possibilities offered by digitalization. You should not expect your clients to stay with you if your neighbor starts to offer similar products, but with a lower price tag.
Needless to say, implementing smart digital solutions into your daily routines reduces manual work, enabling cost savings and increased margins. We at FA Solutions have years of experience in offering modern tools for fund companies and distributors. By using FA Platform, you have all the necessary tools in one place to perform high-level automation of manual operations. Fund companies can easily manage fund portfolios, NAV calculations and shareholder registries, while distributors can effortlessly handle MiFID II compliant onboarding and KYC, financial product sales, client portfolios and electronic trading.
---
---
Going further, fund companies and distributors can form networks where funds are distributed automatically, transparently and safely – in real time.
This happens by utilizing a Roboblock network, where relevant market data providers, custodians and banks can also be connected to enable automated data transfers, including automatic reconciliation and settlement. Manual work is further reduced by automated reporting for managers, authorities, and investors.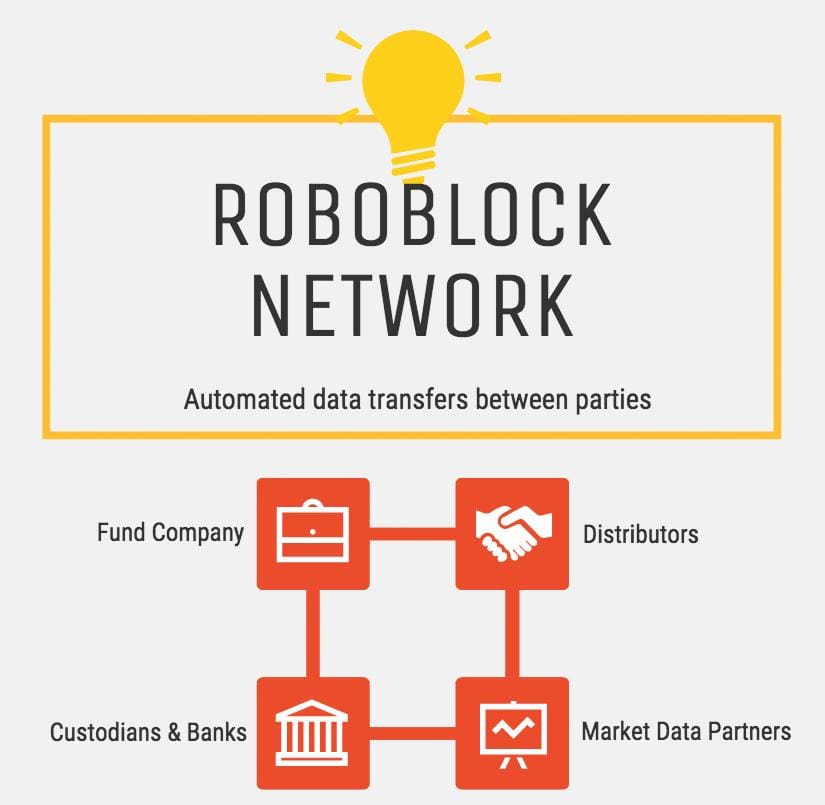 Do you wish to learn more on how to enhance the efficiency of your company?
Just leave your email address for more information.