FA Solutions was founded in 1999 and by the year 2020 we have successfully expanded with offices in Helsinki, Stockholm, and London. We are the leading provider of software solutions to Asset Managers, Fund Managers, Private Banks, and Family Offices in Northern Europe, on the way to becoming a global leading Wealth Management software provider. We are dedicated to offering our customers a cutting-edge software platform as a service, enabling them to take care of everything in their Investment Management business in one platform, which is accessible 24/7. Our transaction-based, multi-currency, multi-lingual portfolio management system can be easily adapted to different needs in an increasingly regulated financial market. Our top modern and independent SaaS solution empowers you to grow where older solutions will limit you.
FA Solutions has been growing steadily over the past few years. In 2018 the company achieved year-on-year growth of 52% in regard to turnover. In 2019, FA Solutions aims to keep up and even exceed our ambitious growth targets.

We offer comprehensive solutions for asset managers around the world
---
Our mission is to automate and accelerate wealth management workflows today and tomorrow.
We work with our customers to deliver our cloud-based Asset Management platform that fits their needs, reduces manual work, errors and time-to-market, to ultimately support your growth.
We leverage technology to give our clients more time with their clients.
Our vision is to be the most preferred SaaS based Wealth Management solution in the global financial industry with a wide network of reliable partners around the world.
Comprehensive
solutions for asset managers around the world. Our FA Platform is currently used in 9 different countries.
---
---
Our ambition
is to always find the perfect fit for your needs. That's why we offer solutions instead of just products or services.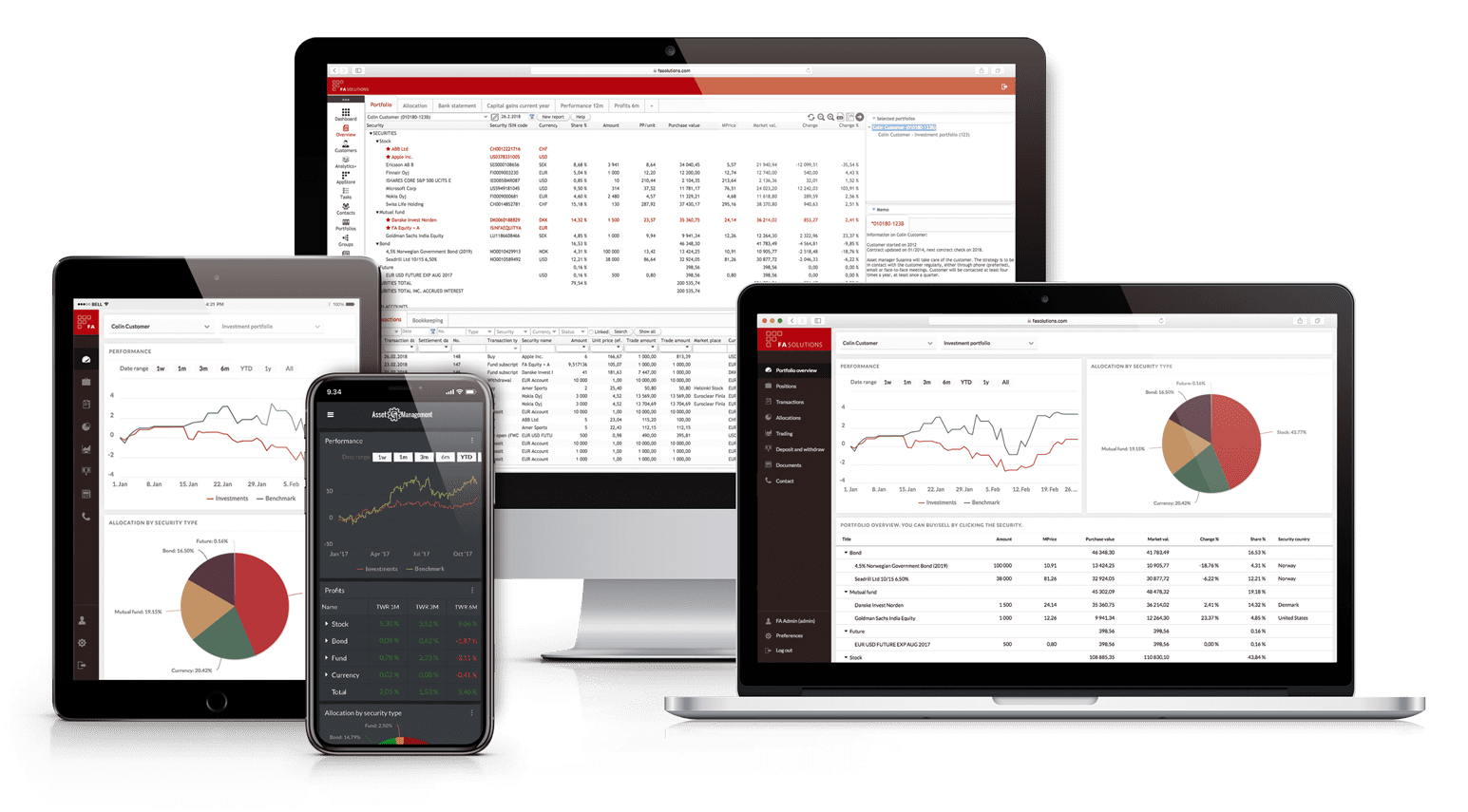 ---
---
---
Strong expertise
in financial and technology sector – we have them both. We develop our software constantly to be sure to always offer you the best solution in the market.
---
---
---
We're the leading provider of Asset Management software solutions
in Northern Europe
Nowadays
We're the leading provider of Asset Management software solutions in Northern Europe, and still continuously growing.
---
---
Trust
We trust in each other.
Our clients trust us.
Co-operation
We co-operate internally and externally.
We help each other.
Development
We continuously develop
as a company and as individuals.