The Fund Management functionality has been available in FA Platform for a long time already. However, we always aim to re-think and refine the main workflows and improve usability and user experience. That is why we recently decided to step up our game and improve the Fund Management process with FA Fund Management Application.
---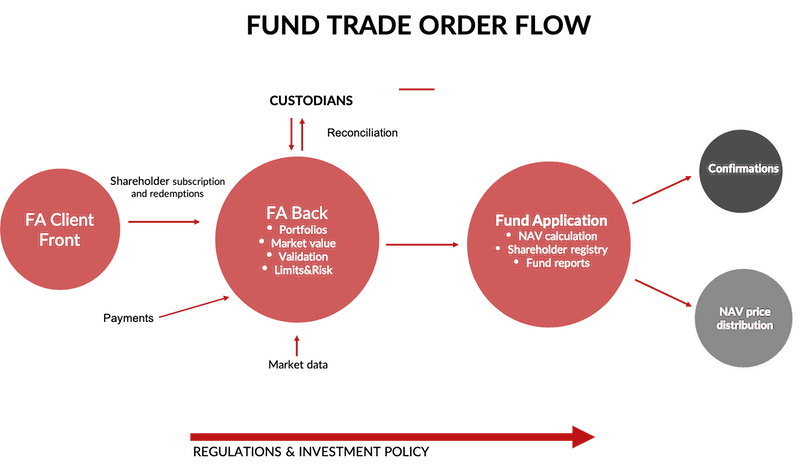 One of our objectives was to improve the Fund management features supported before, such as Warnings, NAV reports, preview details, and history of the NAV. But we didn't want to stop there; we also added some completely new functionality and possibilities, such as group funds, mass calculate funds or groups, and adding NAV schedules to make the process even more flexible.
We improved the NAV calculation process by adding a two-step flow; calculate NAV and Accept NAV. We have also developed a process to handle income distribution for Norwegian funds and Swing price.
Next, we will tell you about some of these new features and improvements a bit more to help you understand how they can make your daily activities with funds go more smoothly.
NAV status based on NAV calculation schedules
Fund's Status now allows you to track where you are within your NAV calculation flow for each of your funds. The status also determines the actions you can currently do on your fund – for example, you can calculate NAV only if your fund is "pending calculations". Fund's status helps you to avoid mistakes as it allows you to determine which fund you should work on and what you need to do for them.
Two-step flow: calculate and accept NAV
NAV calculation flow now includes two steps: Calculate NAV and Accept NAV. This allows you to first "crunch the numbers", then preview the suggested NAV, and only after you are confident with the figures, "roll out" the NAV throughout the system. This provides you with better control over your workflow and allows you to flexibly verify, adjust and apply changes before you publish your figures.
Work with groups of funds
NAV Status now allows you to group your funds and work with groups of funds to help you with your daily activities. You can flexibly group your funds according to various criteria and then select which group you want to work with. For example, you can maintain a group that shows all your funds, divide your funds based on type or fund company, or group your funds based on their priority in your daily work.
Developer access to GraphiQL for API
FA Fund Management application is based on GraphQL API calls against its own backend – backend provides the application all the information it needs to show data and perform actions. Version 1.1 provides developers with access to the APIs through embedded GraphiQL – access to this section is controlled with a separate role and granted to developers case-by-case.
What's next?
As we said, we never stay resting on our laurels but keep developing FA Platform to meet the clients' needs even better day by day. That is why in the future, we will continue to improve current functionalities, introduce new features, release quarterly major version releases and keep FA Fund Management as our focus area during 2021. In the close future, the FA Fund Management 1.2 version will be released. We look forward to informing you of those improvements and new features soon.
---
Do you wish to know more about FA Fund Management Application or the FA Platform in general? Contact us to view a webinar about FA Fund Management or to ask for a demo via the form below or by hitting the "Request a demo" button in the top bar.