Last week, we had the pleasure to support and attend Fondsdagen, the Norwegian fund industry's annual conference that took place on Thursday, 19th of May, at Hotel Bristol.
We were so happy to participate in Fondsdagen after a two-year break due to covid. It was so nice to be there to present our company and product, the FA Platform, and its possibilities to streamline, enhance and scale up our clients' Asset & Investment Management businesses.
It was also a great pleasure to finally be able to meet and talk face-to-face with our existing clients which we have many in Norway and to meet new prospects and have interesting conversations.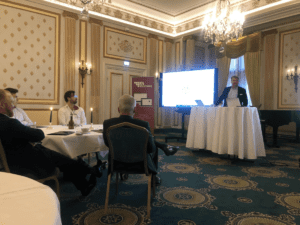 We also had our own pre-event by FA Solutions for our existing clients and new acquaintances the day before the actual Fondsdagen event. At this event, we presented our new open-source Client Portal, the FA Fund Application, and some other nice features and integrations that will increase the automation of our customers' new client onboarding and help them stay on top of their investments. We also had the pleasure to have some of our clients and partners speaking at our event.
Helge S. Arnesen, the CEO of our client company Alfred Berg Kapitalforvaltning AS, spoke about the journey of implementing a new portfolio system, the FA Platform, the gains this has brought, and whether it was a worthwhile investment.
"The reasons for going with FA was the flexibility of the system and also the people at FA since it is important in a system change and implementation of a new system to have good, dedicated people in the project."

Helge S. Arnesen, CEO at Alfred Berg Kapitalforvaltning AS
We participate in these kinds of industry events also to get deeper insights into what is happening in the industry and what is important to fund companies in order to develop our product to match our clients' needs now and in the future. Our product, the FA Platform, is a single cloud-based platform for running your entire Asset & Investment Management business with secure access to your data globally.
The FA Platform's Fund Management application streamlines workflows to calculate NAVs and maintain shareholder registries. It provides a modern, effective tool to manage a large number of funds, including mutual funds, hedge funds, and private equity funds. It can handle various types of assets, share classes in different currencies, and complex fee structures.
Read more about the latest updates and improvements to the FA Fund Management application here or request a free demo by filling out the form below.
---