When starting out a new client case, our team at FA Solutions is always asked a lot of questions about the product and how it can make business processes more efficient. We have decided to publish the best and most popular questions, along with our answers to them. Hopefully, you find it useful, and please don't hesitate to reach out to us directly if you'd like to discuss them in more detail!
How can the FA Platform simplify trade order management?
---
The focus of FA Solutions has always been on removing hassle from Asset Management operations and automating them where possible. We have developed a platform that puts together a report you need in a few clicks, summarizes portfolio performance in one customized dashboard, calculates fees, rebalances portfolios – all this and more to reduce manual workload for you.
One of the newer developments, launched this year, is an automated workflow for Mutual Fund's trade order management with Calastone. Our new partnership with this innovative company headquartered in London made it possible to carry out the process of placing and executing a trade order end-to-end within FA Platform in minutes.
Thanks to their global trading connector, we were able to establish a smooth flow of information between fund companies and investors inside our solution. Forget about emails and faxes going back and forth between parties – with automated trade order management in FA Platform, the orders can be executed by the system in bulk, with real-time status updates.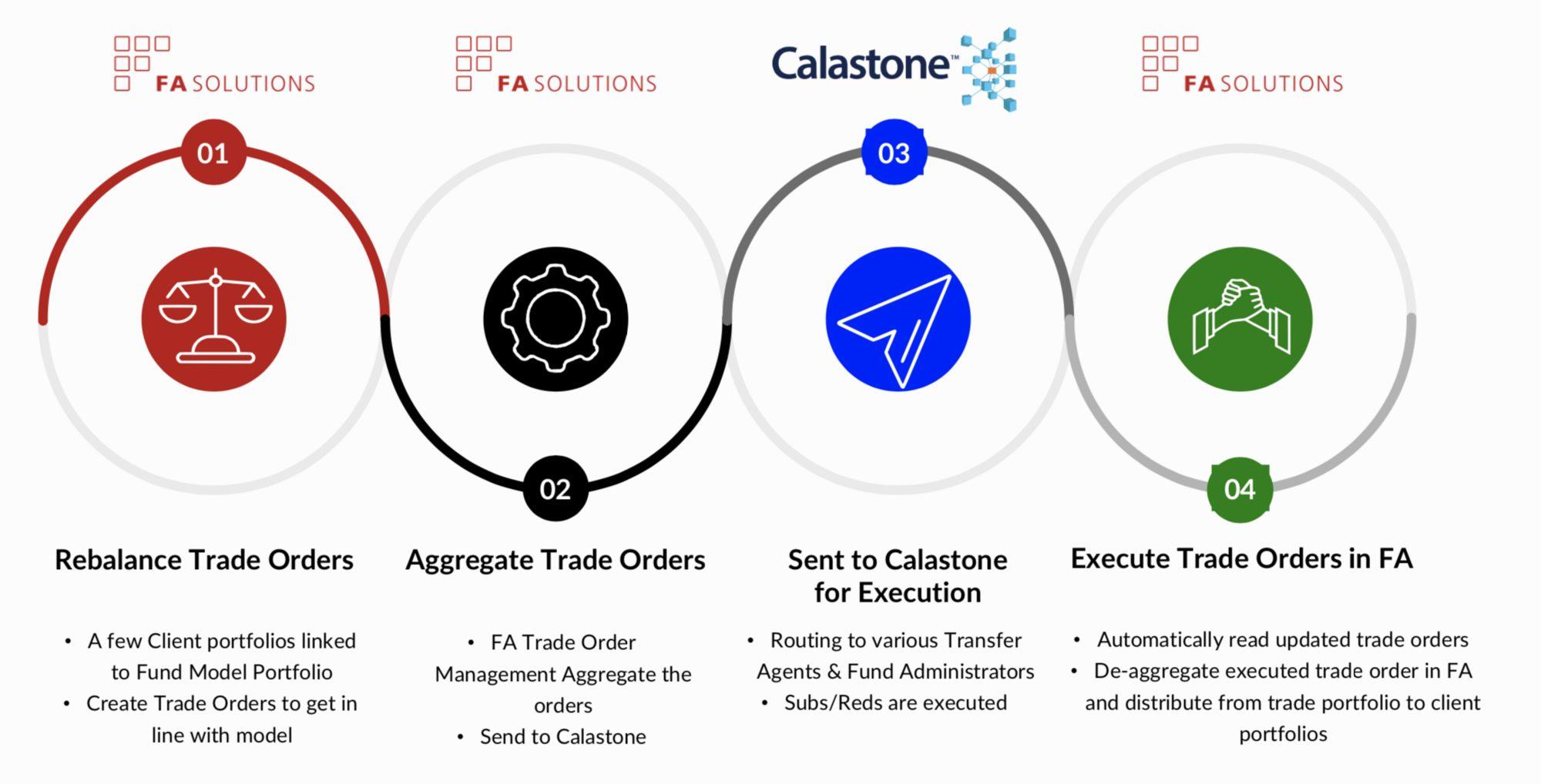 Trade order management in FA Platform using Calastone – process summary
The new process enabled by Calastone takes into consideration the fees and commissions to be charged from the investor as well as the tax to be paid on the transaction. Best of all, these details are handled automatically, without manual calculations which would leave room for human error. What is more, Calastone ensures compliance with EU regulations pertaining to trade order execution. This helped us concentrate on the most important part – to make the process as smooth as possible for the Asset Managers using FA Platform.
Finally, who benefits from this functionality? The new automated flow makes trade order management simpler for Wealth Managers, Fund Managers, Robo Advisories and Family Offices alike.
If you would like to know more about how the FA Platform can help your company simplify and automate your trade order management process, contact sales@fasolutions.com or leave your email below and we will be in touch.
---