FA Solutions was awarded in the yearly awards of Wealth & Finance International in the Ones to Watch 2017 category as the Most Innovative Software Solutions Provider in Northern Europe. You can read our interview in the Wealth & Finance International February 2017 edition here.
"This award is not only a great reward but also a reminder for the entire team at FA Solutions of the great work we have done – and will do in the future. The award highlights our company values; trust, co-operation and development. Furthermore, just a week ago, we agreed internally at FA Solutions that we want to be the revolutionaries in the field.
Our staff are everything. Without our bright and professional personnel, FA Solutions would not exist. Everyone in the company has their own role and place, and they truly give their own contribution into the final outcome. It is especially important that each member of our team has a meaningful job and that they really feel that they are appreciated, listened, and that they can make a difference. That, I believe, is also a motivator for people to stay with us and to collaborate in building the company together."
– Hannes Helenius, Partner and Chairman at FA Solutions.
---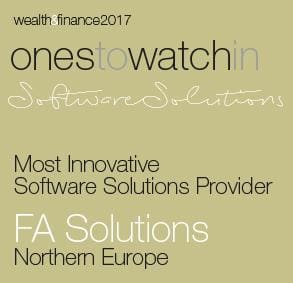 ---