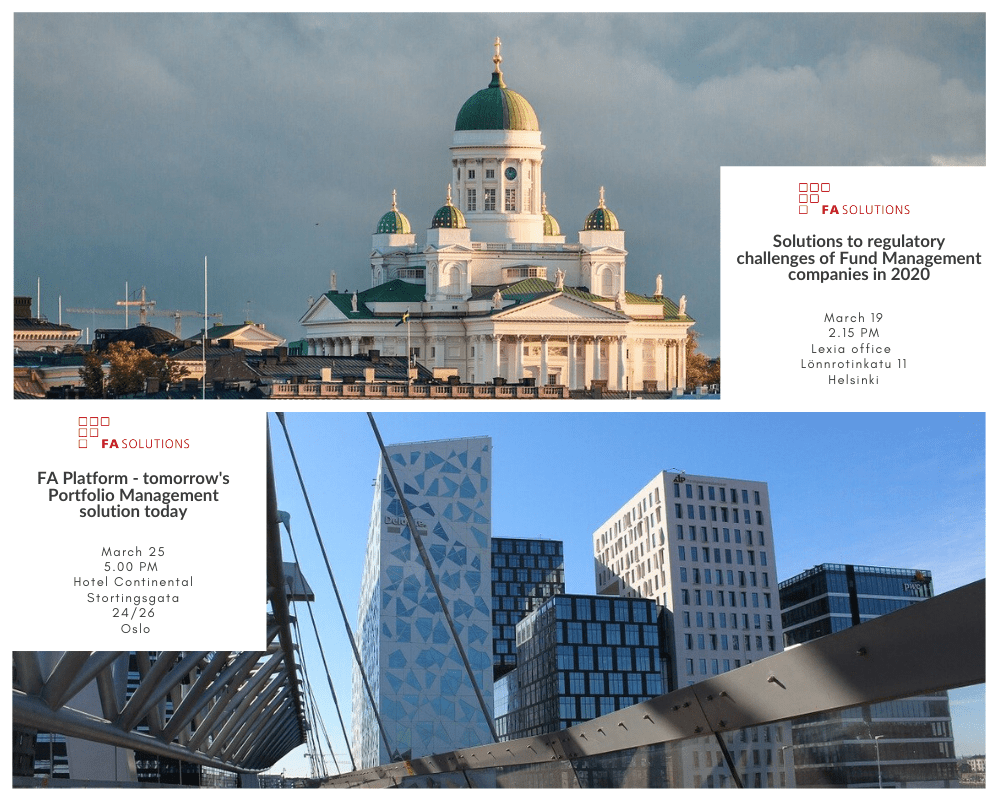 Update 16 March 2020
Unfortunately the events in Helsinki and Oslo had to be cancelled due to the coronavirus outbreak. We wish you to stay safe and healthy in this challenging time, and hopefully we will meet again soon!
Spring is traditionally a busy season in FA, and this year is no exception. In the upcoming month, we will be hosting two events together with our partners and clients, as well as attending one industry event – all here in the Nordics. Read more below and join us for the seminars!
The first event will take place in Helsinki on March 19 at the office of a local legal company Lexia. This afternoon seminar will be dedicated to tackling regulatory challenges that Fund Managers will be facing going forward – in 2020 and beyond. The event will feature speeches by FA Solutions and Lexia experts, as well as a demo of FA Platform. We will finish the evening on a positive note with some mingling and light bites.
---
We are also inviting Norwegian companies to our Oslo afternoon seminar on March 25 in Hotel Continental. It will take place the evening before Fondsdagen, so if you are flying in for the event, your company is welcome to attend our event, as well! Our speakers will be talking about how the FA Platform solves common inefficiencies in the Wealth Management business. Our presenters will demo useful features like trade order management and reporting, followed by a presentation by our new client – a major Norwegian fixed income asset manager.
Finally, we will also be present at Fondsdagen 2020 on March 26 at Hotel Bristol in Oslo. If you are coming as well, find our booth there and let's talk!
Have a fabulous spring, and the FA Team is looking forward to seeing you in March!