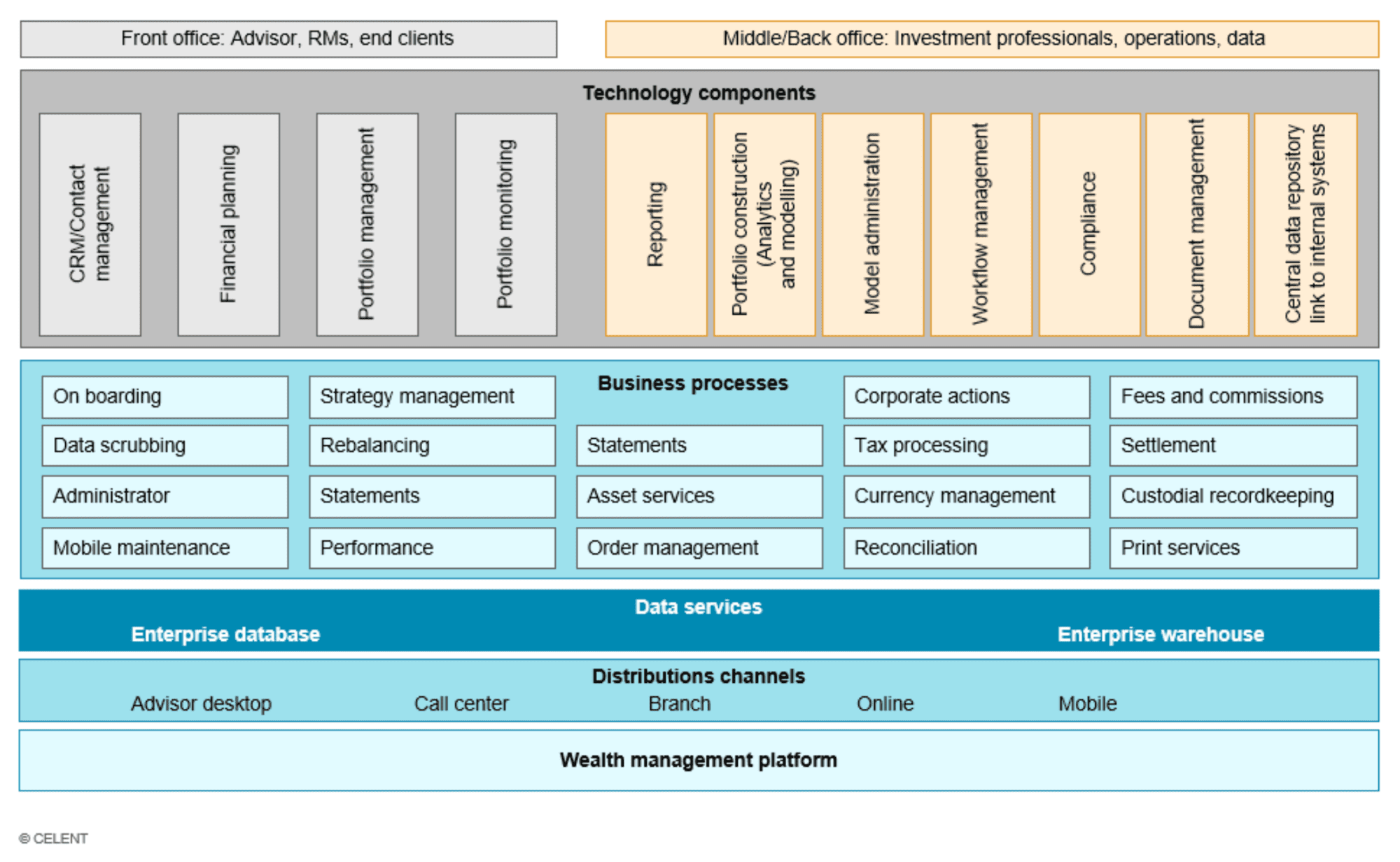 Asset Managers have to juggle multiple processes to provide a smooth experience to their clients. From learning about the customer's portfolio objectives, agreeing on an investment plan to reach them and then following up continuously on the Front Office end, to executing trade orders, ensuring compliance, timely and accurate accounting, as well as regular reporting on the Middle/Back Office side.
All these require handling massive amounts of data – keeping it secure and managing it consistently across the organization. Having a place to store up-to-date portfolio information, updated live, where different specialists from your Asset Management company can collaborate efficiently to deliver results becomes absolutely crucial for an efficient Wealth Management workflow.
Realizing this, FA Solutions has been working for over 20 years now to automate and accelerate your crucial Portfolio Management processes, to ultimately let you concentrate most of your time on what truly matters – the client. Here are just a few examples of how our core product, FA Platform, achieves that.
Client onboarding and data management
---
FA Platform makes client lifecycle management easier from the very beginning. Already at the onboarding stage, the tool allows Asset Managers to create KYC questionnaires for collecting crucial data about the new customer, which can then be sent to the client's profile in FA Back.
For client data protection, FA Solutions provides tools to flexibly control who can log into your FA Platform, track when and where your users have logged in, and what they have done within the system. Options for two-factor authentication, IP restrictions, and tracking unsuccessful login attempts adds an extra layer of security.
Since all the data is stored on a single platform, in a single database, it can be easily accessed from any device and exported as needed.
Trade order management
---
Automated trade order management enabled by FA Platform gives Asset Managers the benefit of reduced risk of manual errors. Besides, it streamlines the whole process to reduce overall time spent on manual updates.
Within FA Platform, orders are created, pre- and post-trade checks are done, and then trades are automatically sent to the market to a single or to multiple vendors that FA can integrate with. Rebalancing can be made against investment plans or model portfolios and initiated by the client. Orders can also be performed manually or imported via APIs and files. FA Platform also supports trade splitting and security transfers between portfolios.
Once the investment amount is received it can trigger e.g. a bulked or individual rebalancing with a pre trade check for limits, drift, exception rules before the trades are sent to the market. The trades are executed and reported according to MiFIR, after which the client is notified and receives a transaction note in FA Front. Trade orders initiated through manually traded portfolios can also be part of the bulked trades.
Compliance & reporting
---
FA Platform also supports compliance during onboarding and throughout the client lifecycle. For example, it helps monitor anomalies through rules and checks, e.g. checking PEP & Sanction lists, AML rules such as abnormal deposits and withdrawals, and security & transaction monitoring for insider trading. FA Platform can be set up to monitor portfolio and asset value for greater value drops (10%). Automated market prices monitoring is also possible with our flexible solution. You can read more about FA Platform's compliance functionality here.
When it comes to reporting, there are ex-ante & ex-post cost and charges reports available in FA, including the ability to import MiFID Costs from EMT file and Morningstar, in addition to other report packages (e.g. country-specific tax reports) and even custom-made reports.
Would you like to hear about how FA Platform can facilitate your Asset Management workflows so you spend more time with clients than doing manual tasks? Contact us at sales@fasolutions.com or leave your email below and we will be happy to answer any questions you may have!
---
If you wish to hear more about how we can help your business, just leave your email address below and we will be in touch
---
---