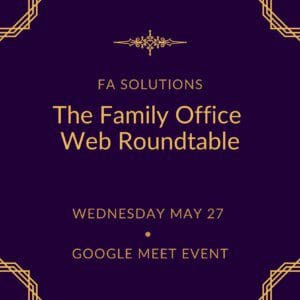 FA Solutions hosted a private roundtable for a select group of family offices based in the UK for a frank discussion on the challenges they currently face. To protect their anonymity, the roundtable adhered to Chatham House rules, which does not allow the identity of speakers or other participants to be revealed.
The discussion showed that some attendees felt the lack of investment in digital tools has held their firms back. One family office member described that his firm was previously akin to an "Excel factory" relying on labour-intensive tasks that were time-consuming. This is particularly challenging for family offices that invest in a diverse range of conventional and alternative asset classes. A speaker summed up that risk management is nearly impossible if firms do not know where all of their investments are and how much. There was consensus that automated data aggregation was key.
COVID-19 has had an obvious impact on markets and increased volatility. Hedging using derivatives has become more challenging as getting it wrong can be extremely costly, so there is a move towards greater cash allocation. However, family offices seem to be less concerned about short-term market risk as many are driven by long-term fundamentals with a minimum five-year investment horizon.
Whilst reviewing alternative assets, one family office made a strong case for increased investment in private markets, particularly in tech firms as the global lockdown has forced many to embrace new tools. Established listed names on Nasdaq have already regained their initial losses in March. Others concurred that a growing number of startups will have a significant impact on society, for example technology to help cure cervical cancer. Despite the plethora of investment opportunities in the private market, venture capitalists have been struggling to raise funds. A single-family office shared their reservation that startup investments are capital-intensive and require more cash injections before exit. Given the low success ratio of startups, investors demand higher multiples for a successful exit.
This was a rare opportunity for family offices to open up and discuss the issues affecting the industry while maintaining anonymity. Family office managers face many challenges as they seek new ways to increase returns for future generations, and at the end of the roundtable the participants proposed more topics to explore in the next sessions, such as family trust structures and philanthropy.
If you are interested to hear how our product, FA Platform, simplifies daily operations and helps Family Offices provide superior service to stakeholders – just drop us an email at sales@fasolutions.com and we will be happy to guide you through our solution to see if it fits your specific business needs.
And if you wish to learn more about solving the challenges of managing alternative investments, such as private equity, luxury items, art, and collectibles which many family offices deal with, make sure to register for our upcoming webinar about this topic:
---
If you wish to hear more about how we can help your business, just leave your email address below and we will be in touch
---
---