September has been full of firsts at FA Solutions. For the first time, we extended our traditional User Summit to two days – twice as much time to spend with our clients from all over the world! What's more, we took our conference to the lovely Amadria Park resort in Croatia – a brand new location where we have not organized any events before. With so much new experiences, of course we have a lot to share. Here are the most memorable highlights of FA User Summit 2019!
Croatia is absolutely wonderful in September, with blue skies and azure sea, but we didn't let the amazing scenery distract us from the main purpose of User Summit – to gather our customers from different countries under one roof, network, and share insights about FA Platform. This year, we were approximately 100 people from 10 different countries in the room – each with unique ideas and FA experiences to share.
Our conference host Oliver Syvänen, Sales & Account Manager based in FA's Helsinki headquarters, energetically opened the first conference day with an on-stage talk to our UK Managing Director Richard Nordin about how this past year has been for the Wealth Management sector and what next year might bring for FA and for the industry. This quickly led to a 2-hour session FA Now & FA Next where our tech experts showed what has been improved in FA Platform recently and which significant changes are coming next.
The afternoon was just as busy, with three general streams taking place at the same time – Managerial, Technical, and Operational – each including two consecutive sessions. This was followed by a lively panel discussion, headed by our Swedish Sales Executive Andreas Ullsten, where four of our client company representatives talked about the future of the Asset Management industry. On that high note, having learned a lot, we wrapped up the first day.
The second User Summit day was a little less intense, with only half a day program including six more one-hour stream sessions within the same three categories listed above. Overall, there were plenty of opportunities during the two days to exchange ideas and learn more about FA. We were happy to hear positive feedback from the clients about how useful the content was, some even asking for more stream sessions to be included next year!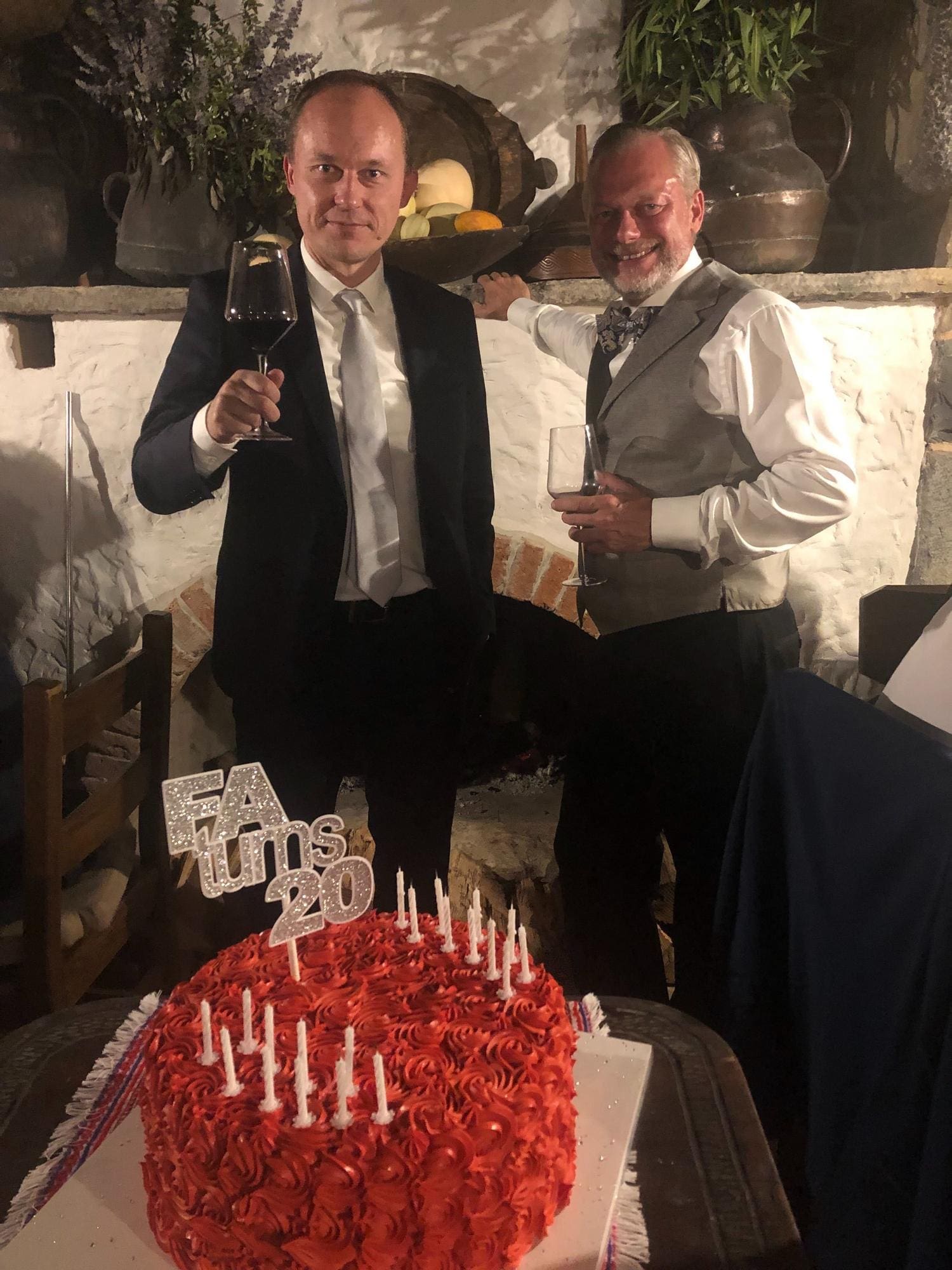 The cherry on the cake was the fabulous FA 20 Gala which took place after the busy first day. We had a delicious traditional Croatian dinner and a very special birthday dessert. To the left you can see a snapshot of it, along with our handsome managers – Juha Lehtonen, FA's CEO on the left and Richard Nordin, UK Managing Director on the right. After the custom-made treat was split for all the guests at the end of the night as a final touch to the memorable dinner, we headed to have more fun at the afterparty together.
All in all, the FA team had such a wonderful time at the User Summit this year! We hope you enjoyed the event to the fullest as well, if you were able to make it, and we would like to sincerely thank everyone who participated in the conference. Your opinions and the stories you share about your company's experiences with FA Platform are extremely valued.
And in case you could not join this time, you should definitely consider coming next year – we love catching up with all our clients at this event and we are constantly working to create a better User Summit experience for you, year after year!
We are already thinking about improvements for next year's conference, but of course our main focus is currently on the next upcoming events. In the autumn months, FA Solutions will organize a breakfast seminar in Stockholm about Fund Management. We are also planning two events in London, UK – one for Asset Managers and one for Family Offices. On top of this, we are celebrating getting a bigger, better office space in Stockholm – come along to our housewarming in October!
Stay tuned for all these new events – we hope to see you there very soon. And in the meantime, enjoy this beautiful autumn and don't forget to make the boldest, most ambitious plans for next year!
One last time, on behalf of the whole FA team, thank you very much to all our clients for joining, and we can't wait to see you back in 2020!