FinTech Global, a specialist research platform for all things FinTech, has launched the newest edition of the WealthTech100 list for 2023, and we are happy to announce that FA Solutions is once again included in the list. This list is a ranking of the world's most innovative technology solution providers that support investment firms, private banks and financial advisors with their digital transformation efforts.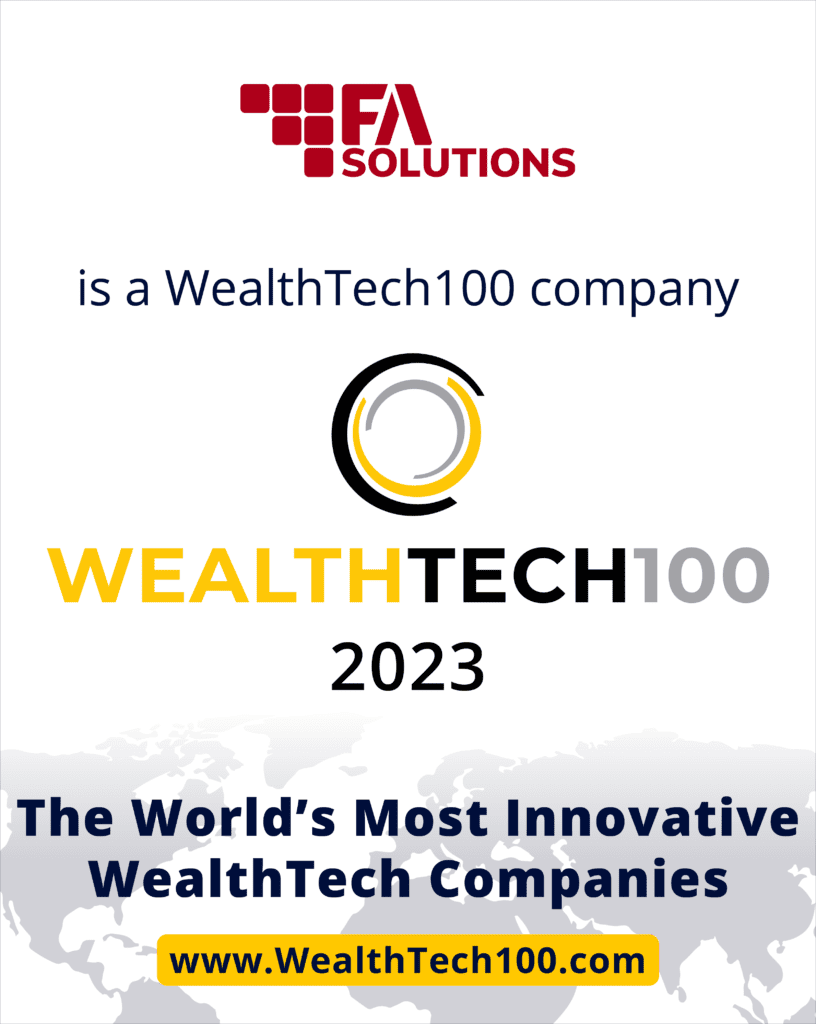 Geopolitical and macroeconomic changes coupled with customer demand for best-practice digital experience have contributed to necessary innovation in the investment sector. Many wealth management firms are now spending more on technology than most other areas of their businesses, making tech the most important aspect of managing and growing a wealth management firm.
According to Fintech Global, the new WealthTech100 list aims to highlight the tech innovation leaders in the industry and which business models will have a lasting impact. They say that while the selection process is difficult every year, with the context of the market, deciding the 100 finalists proved even tougher.
The industry-leading list required a panel of analysts and experts to vote on a list of over 1,200 businesses. Research on these companies was compiled by FinTech Global. The finalists were selected based on their innovative use of technology to solve a significant industry problem or to generate efficiency improvements across the investment value chain.
"At a time when not even the giants like Silicon Valley Bank and Credit Suisse are safe, it is vital banks and investment firms have the best technology behind them. On top of this, customers are demanding better and more streamlined engagements, and are more than happy to switch to a provider that offers this. This WealthTech100 list will equip senior-level leaders in financial institutions with detailed information on some of the most innovative companies in WealthTech."

Richard Sachar, Director, FinTech Global
"With such challenging environments for our clients to navigate, combined with intensifying competition, pressures on the bottom line and customer experience at the focus for differentiation; technology is a vital part of any investment firms' strategic operating model to enable them to respond, challenge and scale, it's great that FA has once again been recognised for the role we play in delivering market-leading solutions to the investment management industry."

Joey Cozens-Smith, Chief Revenue Officer, FA Solutions
A full list of the WealthTech100 and detailed information about each company is available to download for free at www.WealthTech100.com.
Fintech Global
FinTech Global is the world's leading provider of FinTech information services, B2B media products and industry events. They inform, promote and connect FinTech buyers, sellers, investors and innovators worldwide. They serve a network of over 300,000 FinTech professionals from market-leading organisations. More information about Fintech Global is at https://fintech.global/about/.
FA Solutions
FA Solutions is a market-leading provider of software for Asset & Wealth Managers, helping them manage their investments globally. We offer a cloud-based Portfolio Management solution that automates and centralizes a wide range of operational processes into one easy-to-use FA Platform. We believe superior technology enables quality Asset & Wealth Management services for everyone. More information about FA Solutions at www.fasolutions.com.