Combining asset management and debt management into a single platform with the help of FA Solutions.
The solution provides Swedish municipalities, counties and their subsidiaries, such as housing, energy and other service companies, with powerful tools to manage their financial assets and liabilities. All relevant information related to their financial situation is processed and shown in one place, enabling a full understanding over risks, returns and the total picture of Debt and Assets combined.
"We are happy to have all our financial assets and liabilities 'under one roof'. This will put us in greater control, steering us away from external dependencies and time-consuming manual routines, and hence make time for what's important. The solution is very user friendly, intuitive and innovative", comments Fredrik Holst, CFO of Landstinget Västmanland as an end user of the system.
The solution is delivered in cooperation of Finance Active and FA Solutions. The project has been finished on time and on budget, and Kommuninvest is now launching the system to municipalities and regions across Sweden.
"The debt management system supplied by Finance Active was received very well with over 1 000 users and 40 billion EUR managed in it. As our members also manage pensions, we wanted to offer them with a tool for financial asset management. Finance Active and FA Solutions have created a new innovative solution which combines multiple engines in one system with a superior user experience. We at Kommuninvest Business Development are extremely satisfied and we hope to build a bigger family of services going forward", state Pelle Holmertz and Johan Sigge from Kommuninvest.
Meet KI Finans Financial Assets
Control your financial assets with easy-to-use dashboards and analysis reports
Accessible online with any device and secure login details
No installation required
---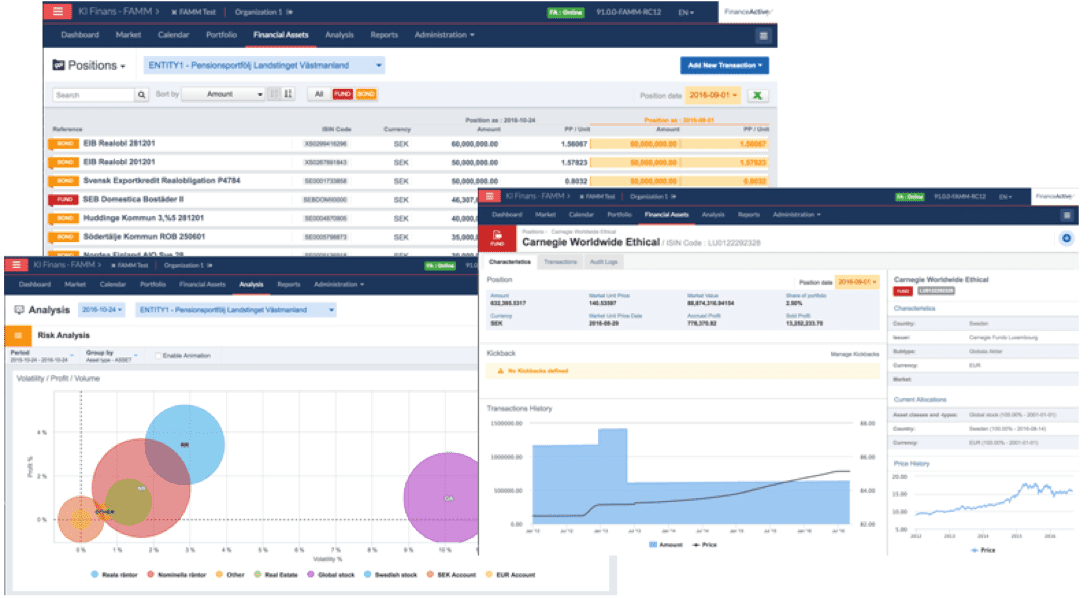 Kommuninvest is a municipal cooperation for efficient and sustainable financing of housing, infrastructure, schools, hospitals etc. Since its inception in 1986, the Kommuninvest collaboration has helped lower the local government sector's borrowing costs by many billion kronor. Currently, 275 municipalities and 11 county councils/regions are members of this voluntary cooperation. With total assets of around SEK 370 billion (USD ~42 billion), Kommuninvest is the largest lender to the local government sector and the sixth largest credit institution in Sweden.